Archive & Special Collections
Our Archive and Special Collections encapsulate the history of the College
Girton College Archive and Special Collections
The Archive holds and collects records of the College, including administrative records and the personal papers of former and current Fellows and students. Our collections are an important resource in the study of women's history, and particularly in the history of women's higher education. The collections also include material on nineteenth and twentieth-century feminism and women's social history.
In addition, there are some 15 Special Collections in the College Library. In the early days, Girton received copies of their own work from supporters such as George Eliot, Charles Darwin, and John Ruskin. More recent gifts have included a Shakespeare Second Folio, a "Treacle" Bible, and a fifteenth-century Flemish Book of Hours. The scholarly texts in these collections often provide insights into the lives and scholarship of their previous owners.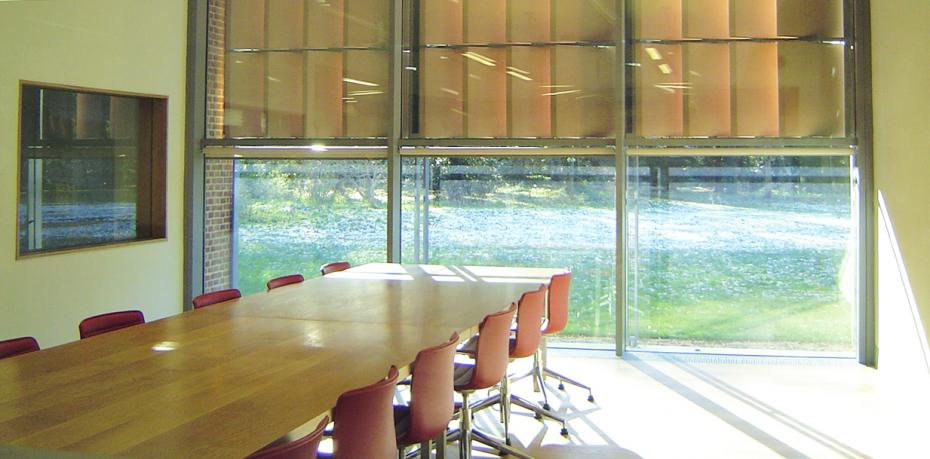 The Archive
The Archive's main aim is to build a record of the institutional history of the College reflecting its unique history. Records of the executive, administrative and academic College bodies, College Offices, College Officers and individuals employed by the College are all held in the Archive.
The Archive also aims to build a record of the lives and careers of individuals and groups associated with Girton College from its foundation to the present day. As a result the Archive includes rich and varied collections of personal papers.
In addition, the Archive also collects records associated with the history of women's higher education and women's history generally.
| | |
| --- | --- |
| GCGB Governing Records | This section includes the College's charter and statutes, ordinances and regulations, grant of arms, deeds, trusts etc., the papers of College Council (previously Executive Committee), the Governing Body, and standing committees of Council. |
| GCAR Administrative Records | This section includes the papers of the offices of the Mistress, the Bursar, and the Steward/Domestic Bursar. It includes papers relating to the College's finances, appeals and fundraising (latterly Development Office), the Chapel, Wolfson Court, and 'named rooms' within the College. |
| GCAC Academic and Library | This section includes the papers of the Admissions and Tutorial Office, the Praelector and the Library. |
| GCAS Clubs, Societies and Associations | This section includes the papers of the Roll (previously Association of Certificated Students), the JCR, the MCR, and the papers of the various sports, dramatic and musical societies. |
| GCCP College Publications | This section includes complete runs of the Annual Report (to 1969), the Girton Review (1882-1993), the Newsletter (1993-99), Annual Review (from 2000), as well as various information guides, College songs, and occasional publications. |
| GCRF Historical Reference | This is a subject-oriented section including special events/celebrations, press cuttings and journal articles, memoirs and reminiscences, drawings and artefacts, and miscellaneous correspondence collections. It also includes records relating to women's history generally and the suffrage movement in particular. |
| GCPH Photographs | This is a large collection of photographs dating from the College's foundation to present day showing the College buildings (exterior and interior), individual students and student groups, Fellows, Mistresses and staff, and special events. |
| GCOH Oral History | This section consists of interviews with those who had a lifelong connection with Girton, or who had come up to College in the 1920s or earlier. |
| GCPP Personal Papers | Some of the major collections in this section are the papers of Barbara Leigh Smith Bodichon (1827-1891), Helen Cam (1885-1968), Emily Davies (1830-1921), Jane Catherine Gamble (1810-1885), Dorothy Needham (1896-1988), Bessie Rayner Parkes (1829-1925), Bertha Phillpotts (1877-1932), Chrystabel Procter (1894-1982), Eugénie Sellers Strong (1860-1943), and Barbara Wootton (1897-1988). |
| GCIP Institutional Papers | This section includes the papers The Society for Promoting the Training [formerly Employment] of Women (SPTW), the Girton College Working Women's Summer School and the Cambridge Women's Liberation Archive. |
A large proportion of the catalogues for GCRF Historical Reference, GCPP Personal Papers and GCIP Institutional papers are available to search on the ArchiveSearch website here. 
The catalogue for the remaining sections of the archive is currently not available to researchers. There is an ongoing project to make the rest of the catalogue available. In the meantime the Archivist can undertake searches on your behalf.
Our archival collections offer a rich resource for research in many areas and in several disciplines. This subject guide is a starting point for researchers; it is not a comprehensive list.
The archival collections are continually growing with new material being added on a regular basis.
New donations are welcomed, but unfortunately the Archive is unable to accept all donations. Any potential donation is considered against the Archive's Collection Policy.
If you would like to donate material to the Archive, please contact the Archivist to discuss your donation.
The Archive's Collection Policy (summary)
The Archive only collects original and unique material. The Archive would not normally accept collections of published material or copies of material, unless that material is considered to be relevant to building a history of Girton College (for example, press cuttings).
The Archive collects:
Records, artefacts and memorabilia relating to the history of the College.
Records, artefacts and memorabilia relating to the lives and careers of individuals and groups associated with Girton from foundation to the present. These include College members and staff, and their family and friends, and bodies or institutions, which have connections with such individuals.
The Archive may also accept material associated with the history of women's higher education.
Personal papers illustrating the Girton experience
These papers include diaries, letters home, memoirs and autobiographical writings; also financial accounts. This list is arranged in broad chronological divisions - see sections below.
Other relevant records which illustrate 'the Girton experience' include: the Historical Reference (GCRF) section of the Archive; the College's publications, in particular the Girton Review (GCCP); the Photographic collection (GCPH); and the Clubs and Societies (GCAS) section. The catalogues for these sections of the Archive are not yet all available on ArchiveSearch. Please contact us for more details.
There is also relevant material in published memoirs biographies and autobiographies – please see our list of books about or related to Girton College (pdf).
The Special Collections
The rare or special collections of published material complement the manuscript holdings in Girton's archives in providing insights to the lives and scholarship of their previous owners, in addition to their intrinsic value as scholarly texts.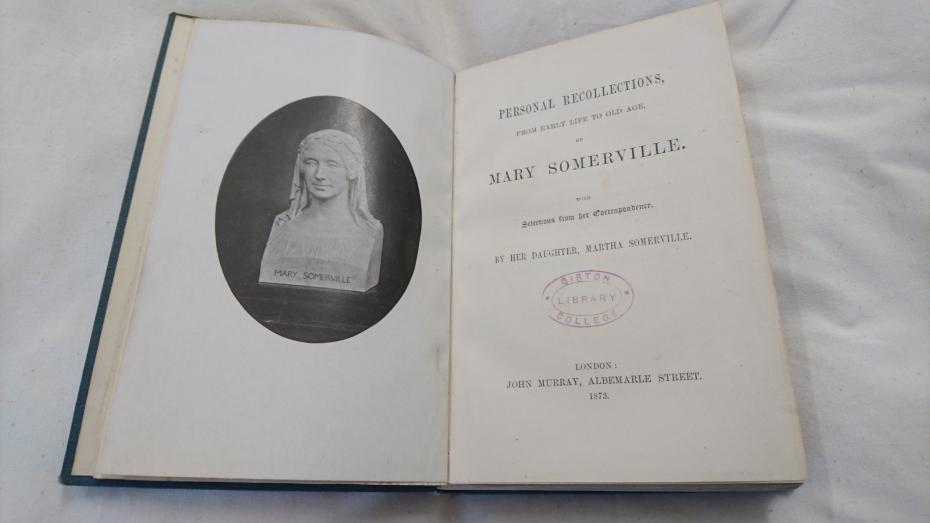 Image caption: Personal recollections, from early life to old age of Mary Somerville / with selections from her correspondence by her daughter, Martha Somerville. London: John Murray, 1873.
Early benefactors were concerned to ensure that Girton's collections at least rival those in the older, male colleges. In the early days, therefore, we received copies of their own work from, for example, George Eliot, Charles Darwin, and John Ruskin, while Mrs Morris gave copies of her husband William's published works.
The Blackburn Collection was bequeathed to Girton College, Cambridge, by Helen Blackburn in 1903. The collection was formed by her in memory of Lydia Becker and Caroline Ashurst Biggs and consists of books, pamphlets, periodicals and newspaper cuttings which relate to the worldwide position of women during the nineteenth century. 
It contains works in Dutch, French, German and Italian, in addition to works in English. The collection was arranged by Helen Blackburn in a mahogany bookcase of her own design¹ and each book contains a bookplate to the memory of Becker and Biggs designed by Edith Mendham and printed by the Women's Printing Society. A condition of the bequest was that the books should always be kept together. A.B. Blackburn, writing to the College Bursar in February 1903 includes in his letter the following extract from his sister's will,
"I bequeath the 'Memorial Library' of books on women's questions to Girton College Cambridge and direct that my executors deliver the bookcases and all the contents thereof free of charge to the person acting as Bursar for the time being, with the understanding that the books may be kept together whether additions be made to the Library or not"²
It is clear that those who worked with Helen Blackburn regarded her Library as an important resource for future students interested in women's questions. Lilias Ashworth Hallet undertook to complete the binding of a portion of pamphlets remaining unbound at the time of Helen Blackburn's death because she felt that such documents were worth careful preservation. In her letter to the Bursar, outlining her proposals she writes,
"There are also annual reports of the various chief Women's Suffrage Committees and I incline to think these worth binding, for they have lists of all the early workers and early subscriptions and I believe that these will be of lasting interest. There will always be a few women who will look back through the years with interest and gratitude to the struggles of the early workers."³
The collection has been kept in accordance with Helen Blackburn's wishes and, with the exception of a few additions, remains in its original state.
¹ The Englishwoman's Review, CCLVII (15 April 1903), p. 80.
² A.B. Blackburn to M. Pickton, 24 February [1903]. Girton College Archive, reference GCAC 4/6/3/1 (pt)
³ Lilias Ashworth Hallett to M. Pickton, 3 April 1903. Girton College Archive, reference GCAC 4/6/3/3 (pt)
"Who was Barbara Bodichon? She was many things: artist, law reformer, pamphleteer, journalist, co-founder of Girton College, intrepid traveller, the red-haired charismatic leader of the Langham Place group, Florence Nightingale's first cousin and George Eliot's closest friend. It was her unusual political education and acumen that enabled her to assume the leadership role of the Langham Place group, the inspiration and focal point of feminist agitation in England for thirty years".¹
The Bodichon Library was acquired in two parts. The first, a collection of 395 volumes from the Scalands (Sussex) Library of Barbara Leigh Smith Bodichon (1827–1891), was acquired in 1954 through Mr H.W. Pratley, Halls Bookshop, Tunbridge Wells, who offered them to Girton for £200 rather than have them go en bloc to America. They were purchased by the Librarian, Helen McMorran and presented to the Library². Letters concerning the purchase are filed with the Bodichon Papers in the College archives. Scalands was the country home of Barbara Bodichon which she designed herself in the 1850s. After her death it was occupied by the Leigh Smith family until 1953 when it was given up owing to its inconvenience and general inaccessibility. After that date, it stood empty and was partially destroyed by fire in 1955³.
Most of the books are stamped with Barbara Bodichon's address (either Scalands Gate or 5 Blandford Square) and many contain inscriptions from contemporaries. Loose leaf letters, notes and miscellanea have been transferred to the archives, as have the volume of autograph letters and the album of photographs which formed part of the original collection. The inscriptions and inserts in the books are described in the Accessions Register Vol. 1954–1964.
The second tranche of some 42 volumes was bought from the antiquarian booksellers, Bernard Quaritch, in 2005. Quaritch had written to the Librarian to offer them for sale to Girton in the first instance. These were books which were passed to Barbara Bodichon's nephew, Philip Leigh-Smith, a diplomat who spent part of his career in Russia. They were later passed to a friend of his, and eventually found their way somehow into a small bookshop in a remote part of northern Croatia. A dealer listed them at a German book fair to which the representative from Quaritch had gone, and he then travelled to the bookshop to inspect them. He selected out those books which were directly connected to Barbara Bodichon, as opposed to those belonging to her nephew, and brought them back. The asking price was £7,500.
The books include copies of works by Barbara Bodichon and her husband Eugène. The books are almost all inscribed in some way and many are annotated. The inscriptions and annotations are richly illuminating in both re-affirming and adding to the knowledge we already have of Barbara Bodichon's various friends and connections in the artistic, literary and political worlds of the mid-nineteenth century. The last eight of the books show the strong link between the Bodichon/Leigh-Smith and Parkes/Belloc families. The purchase was financed by funds from Friends of the Library and one or two private donations.
¹ Pam Hirsch, in Barbara Leigh Smith Bodichon: Feminist, Artist and Rebel.
² Library Committee Minutes 3 Nov 1954.
³ Helen McMorran to [Philip Leigh Smith], Aug 1955. Girton College Archives.
Mary Somerville (1780–1872) occupies an important place in the history of nineteenth-century science. A profound mathematician, she became a leading scientific author, celebrated for the clarity and focus of her writing. She was a pioneering advocate of education and votes for women. She was made an honorary member of the Royal Astronomical Society and the American Philosophical Society. Her mathematical library was presented to Girton College by her daughters. It comprises copies of her own work together with works by the leading scientists and philosophers of her day. Many are personally-inscribed presentation copies from luminaries such as Michael Faraday and Sir John Herschel.
Books from the scientific library of Mary Somerville (1780–1872) were presented to Girton College by her daughters, Martha and Mary Somerville in May 1873. There is no extant correspondence about the gift but it can be assumed from the Executive Committee minutes1 that the Misses Somerville wrote to Emily Davies offering the books to the 'College for Women'. Whether or not this was done at their late mother's behest is not clear, but seems probable. Mrs Somerville came to Cambridge with her husband in 1834 when they were invited by Dr Whewell to visit the University. On that occasion, Mary Somerville may have been the first woman to occupy a set of rooms at Trinity College.2
The only contemporary documentation about the gift is a list of the books "to be sent from Naples", Mrs Somerville's residence in the later part of her life, and instructions for assembly of the "ebonised bookcase" dated 14 Jan 18703. The Somerville Collection was, until recently, housed in its original bookcase in the corridor outside the Library, but was moved into the special collections repository in 2005. The College was conscious of the value of the books and the great honour which had been conferred by the gift.4
In the early thirties, there was some thought of integrating Mrs Somerville's books with the rest of the College Library but this suggestion was strongly opposed by Barbara Stephen and they remain a discrete collection5. The collection includes a copy of Mechanism of the Heavens (1831) the book, commissioned by Lord Brougham for The Society for Diffusing Useful Knowledge, which brought Mary Somerville recognition.6
Note: Two letters inserted in the books have been transferred to the Archive7.
The College also owns a bust of Mary Somerville, presented by Frances Power Cobbe, a portrait by Samuel Laurence, presented by Lady Stanley of Alderley, and a bronze relief by J E Davis, presented by Helen Darbyshire.
1 Minutes of meeting 19 May 1873, Executive Committee Minutes Vol.3 p108 [Girton College Archive reference GCGB 2/1/3]
2 M L Cartwright to the Editor of The Times, n.d. Misc Corr. File [Girton College Archive reference GCRF 9/1/13]
3 [Girton College Archive reference GCAC 4/6/3/1]
4 Minutes of meeting 19 May 1873 [Girton College Archive reference GCGB 2/1/3]
5 Letters from Barbara Stephen to H I McMorran [1933] Library correspondence [Girton College Archive reference GCAC 4/6/3/5]
6 'A self educated woman' Times Educational Supplement 25 Nov 1922 Obituaries [Girton College Archive reference GCAS 2/6/1]
7 [Girton College Archive reference GCAC 4/6/3/1]
The Girton Review, Lent Term 1913: 'An interesting collection of about 200 Hebrew books (including some Samaritan MSS… .) was made to the college Library last summer under the will of the late Miss Mary Frere. Several of the volumes are valuable editions with beautiful bindings…[The bequest also includes] some Jewish marriage certificates of mediaeval times having borders rich in symbolic illumination'.
 
From The Girton Review, December 1885: 'A very generous bequest has been recently made to the College by Miss Gamble. Divested of the exaggerations which, as is usual in such cases, attend our ignorance of facts, the bequest is yet most munificent, being to the amount of about £18,000 … together with a number of books. 
Among the books of general interest there are many old favourites and those who have regretted the predominance in the library of unserviceable modern bindings may relieve their eyes with the harmonious browns and business-like blacks of these recent additions… The principal books are: complete editions of Shakespeare, Swift and Addison; Johnson's Lives of the Poets; Hakluyt's Voyages; Bell's British Theatre… a valuable copy of Bewick's Birds (1st edition); Darwin's Botanic Gardens; Rossetti's Dante…' etc.
The Girton Review, Easter Term 1954 announces the death of 'Miss H.L. Lorimer, Honorary Fellow of Somerville College since 1941 and of Girton College since 1951. She lived and worked for most of her life in Oxford, but she retained a lasting affection for her first college, Girton, to which she has bequeathed her magnificent classical library – one of the most valuable bequests that the Girton library has ever had'.
Marie Adrienne Henriette Bibas (1884–1965) was a Fellow and Life Fellow. Her obituary in The Girton Review, Michaelmas Term, 1965 states: 'Her power to ignore or to eliminate or to resist the substitutes for truths which offer themselves perhaps gave her the precision with which she moved in both her languages'. This collection comprises rare editions of seventeenth- and eighteenth-century French literature.
'Her picture of the life of her time is a historical document… Her books have been my friends for sixty years; and even those who have not read them may be grateful for the ideal of strong, sane, and unselfish life set before the generations who preceded them, and who learnt to work with courage, but without fever, knowing they were parts of a whole that could not fail'.
(C.M. Ridding in The Girton Review, 1934)
 
This collection has been nurtured by several generations of Girton Librarians and various benefactors, but it owes its foundation to Ethel Fegan, and contains the large part of her own collection of books on bibliography and the library profession.
Ethel Sophia Fegan (known as "Fegs") 1877–1975 was a Fellow, Librarian and Registrar of the Roll 1918–1930. She was Lady Superintendent of Education for Nigerian Government 1930–1935, and educational and leprosy relief worker in West Africa. She was an Honorary Fellow from 1948.
"[She] was the most celebrated Librarian when she came in 1918. She [had been] the Librarian of Cheltenham Ladies' College. She published The Cheltenham Classification which was a standard work; and she helped Pollard and Redgrave with the Short Title Catalogue (1926) a monument to all librarians."
 
If you would like to donate books to the Library or the Special Collections, please first contact the Librarian to discuss your donation.
The Library and Special Collections' Policy (summary):
Donations will be accepted and added to stock if they fulfil the criteria for the main collections, or for any of the special collections that allow additions, or if they have been written by Fellows of the College or by Old Girtonians. 
If none of these criteria apply, the donation may be politely declined or the donor asked if the books may be sold and the income added to the Library funds.
The Special Collections which allow additions are:
Bibliography
Blackburn (as Blackburn X)
Bodichon (as Bodichon X)
Gamble
Girtoniana (Librarian's Office)
Rare Books
Stanley Library
Travel Collection
Charlotte Yonge
Making an enquiry
We are happy to answer enquiries about our collections. We ask that you put your enquiry in writing and include the following information:
Your full name
Your contact details, including your address and email address.
Your enquiry, with as much information as possible.
If you are enquiring about an individual, please include all the names they were known by; this is especially important for women who may have had several names in their lifetime. The person's date of birth and/or death is also helpful. Please note that if the person you are enquiring about is still alive, access to any records relating to them will be governed by the Data Protection Act.
The reason for your enquiry (for example family history, or research for a publication).
How you heard about Girton College Archive and/or Special Collections.
Please note that we do not offer a research service and we are unable to undertake any research on your behalf. We recommend that you visit Girton College Archive and Special Collections in person to make use of our collections.
Arranging a visit
Most of our catalogued collections are open to anyone with a research enquiry, free of charge. However access to some of our collections is restricted. These restrictions are usually due to a condition of bequest or in accordance with the Data Protection Act.
All of our collections must be consulted in the Littler Reading Room via an appointment.
The Reading Room will be open by appointment only on Mondays, Tuesdays, Wednesdays and Thursdays, 10am-12.30pm and 1.30pm-4.30pm.

We close over Christmas & New Year, Easter, and for a fortnight in August/September each year.
Please book an appointment with the Archivist or Librarian, at least two weeks in advance of your proposed visit. However, we recommend contacting us earlier than this if possible, as during busy times there may be a considerable wait for an appointment.

All appointments will be on a first come first served basis. If you do not have an appointment, you will not be given access.

Appointments are required even for current members of Girton College.
Please do not come into the College if you are unwell, especially if you have Covid-19 symptoms. For more details about the College's Covid-19 guidance please see: https://www.girton.cam.ac.uk/covid-19.
Please note that we may need adjust or pause our Archive & Special Collections service at short notice. In exceptional circumstances this may mean that we may need to cancel your appointment at short notice.
For directions to Girton College, please visit our contact page.
Please report to the Porters' Lodge on arrival.
The Library & Archive building itself has level access throughout its ground floor, with a mixture of hard flooring, carpet tiles and a rug. We regret that there is no hearing loop.
There is level access to three toilets: one for women and non-binary users, one gender neutral and one accessible gender neutral toilet.
Please see the College's accessibility guide for more information.
If you are not a current member of the College, you will be asked to register as a Visitor when you arrive at the Porters' Lodge. You will be issued with a Visitor's badge, which we ask you to wear whilst on the College premises.
At the end of your visit, you will need to return to the Lodge to sign out and return your badge. 
Once you have made an appointment, we will ask you to complete our registration form electronically in advance of your visit. We will send this form to you via email.
We can only confirm your appointment and the details of your visit once we have received your completed form.
When you register as an Archive and Special Collections reader you agree to the following rules:
General Rules
Please note the Archive & Special Collections building was designed as a sealed unit with minimal ventilation to create a stable and secure environment for our records. We have three air purifiers running continuously in the Reading Room area.

Do not come into the College if you are unwell, especially if you have Covid-19 symptoms.

For more details about the College's Covid-19 guidance please see: https://www.girton.cam.ac.uk/covid-19.

Your belongings (bag, coat, etc.) must be left in the lockers outside the Reading Room.

No food or drink can be brought into or consumed in the Reading Room.

Files of your own papers are not allowed in the Reading Room – notebooks are permitted.

No pens are allowed – please use pencil only.

Laptops are allowed and power points are available
Rules when handling the material
The documents you have ordered will be held behind the desk. You can consult one file or up to three volumes at a time.
Handle the material with clean hands. Alcohol based sanitiser may harm the documents, so please wash your hands with soap and water. Disposable gloves are also available.

Keep loose documents in their original order, flat on the table and turn one sheet at a time.

Use the book supports and weights that are available for volumes.

Do not lean on the material or rest objects on them.

Close volumes and files when you are not using them.

Do not write on or mark any material (acid-free bookmarks are available if required).

Tell us about any accidents or damage.
Requesting copies of the material
It may be possible to take your own photographs of the material free of charge.
It may be possible to request scans or photocopies of the material for a charge.
For our copying regulations and charges please see our 'Copying or Publishing Material from the Archive and Special Collections' section.
All our collections are housed in a closed store. 
You will need to order out the material from the Archive and/or Special Collections that you would like to consult at least a week and a half in advance of your visit - it will not be possible to make any material available if you have not ordered it in advance.
Girton is located outside of the centre of Cambridge and there are no local cafés or restaurants within walking distance. It is possible to have lunch in the College Dining Hall or Social Hub.
You can pay using debit or credit card, but not by cash. It is also possible to bring your own lunch and eat it in the College grounds.
If you need to stay in Cambridge overnight it may be possible to stay in College. Generally rooms are only available outside Full Term. For more details please visit our Accommodation pages.
You can find details of local accommodation on the Visit England website. This is the official tourism website for Cambridge.
Copying or publishing material from the Archive and Special Collections
Material from our collections may be copied if:
UK legislation (e.g. copyright law and data protection regulations) permits it.
The depositor of the material has not placed restrictions on the copying of the material.
Copying the material will not damage it – for example, material that is too fragile, or too tightly bound or too large will not be copied,
All material is copied at the discretion of the Archivist (for archive material) or Librarian (for special collections material). 
Art and Artefacts
Explore the art treasures on show at Girton College
Discover more