We guarantee College accommodation for all years of your course – from Victorian rooms in the original College building to modern en-suite rooms in Ash Court and Swirles Court.
Choosing Rooms
All first year students live on the main college site – either in the original Victorian buildings or in the more modern Ash Court.  This helps create the friendly, community atmosphere that Girton is famous for!  You do not have to apply for accommodation – it is automatically allocated to you once you've met your offer. 
 
In later years you will have the choice of rooms in College, in a College-owned house on the main site, or Swirles Court.  The order in which students choose their room is determined by a student-run ballot; a student's position in the ballot being determined by the type of room they have had in preceding years. 
Further detailed information about all of our accommodation and how the room choosing process works can be found on the Accommodation pages.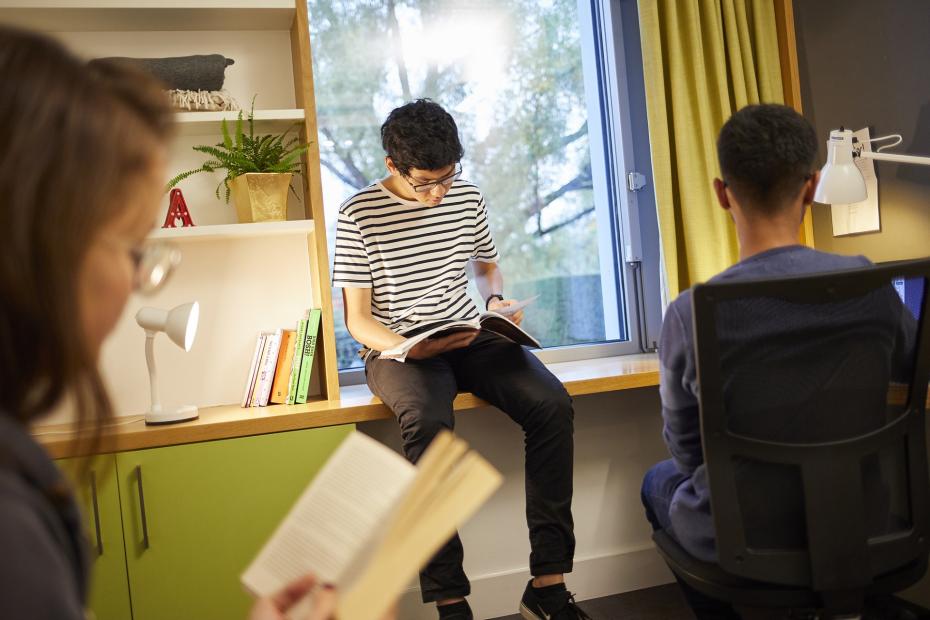 Room Facilities
We pride ourselves on the high standard of our accommodation.  All of our undergraduate rooms are single study-bedrooms – so no student has to share a room.  They are all well-furnished with a bed, desk and chair, wardrobe space, and comfy chair or sofa.  There are bath- and shower-rooms on every corridor, together with lovely student kitchens that you can use to make snacks and simple meals. 
We have six wheelchair accessible rooms with en-suite facilities in Ash Court and we have a small women/non-binary corridor in the main College building.
Residence Charge and Tenancies
At Girton, students pay a Residence Charge which includes rent, internet access, utilities, cleaning in communal areas, contents insurance and access to college facilities such as the swimming pool and cafeteria.  We offer a fixed cohort residence charge which means you will know how much your accommodation is going to cost you for all the years of your course.  Our tenancies run throughout the academic year so you do not have the expense of clearing your room and taking all of your belongings home in the Christmas and Easter vacations.
Accommodation
Discover more about what accommodation we can offer you
Discover more