Dr Seb Falk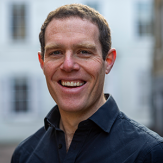 College position(s)
Fellow
Specialising in
Official Fellow; University Senior Proctor; History of Science
Degrees, Awards and Prizes
B.A. (Oxford), PGCE (Buckingham), MPhil (Cambridge), PhD (Cambridge).  
Research themes
I research the history of science in the Middle Ages. I am particularly interested in how sciences were studied and practised by non-experts, as well as the relationships between science and religion, and science and literature.
My first book, The Light Ages, was published in 2020. It was a Book of the Year in several publications including The Times, The TLS and The Telegraph, and was shortlisted for the Hughes Prize of the British Society for the History of Science.
My next research project attempts a global perspective of the natural sciences in the year 1000. Taking a comparative approach between case studies from China, the Islamic world and Latin Christendom, I am trying to evaluate the intellectual connections across Eurasia at the turn of the first millennium, and to show how deeply rooted scientific ideas were in the cultures that gave rise to them.
 
Other
I studied History and Spanish at Oxford and worked in the UK Civil Service, and as a teacher in the UK and Canada, before turning to historical research and university teaching.
I am also an Offshore Yachtmaster and RYA Shorebased and Cruising Instructor, and have taught navigation and practical sailing skills for the University Yacht Club.
In 2016 I was named a BBC New Generation Thinker. I have presented and appeared on various BBC radio programmes, as well as podcasts such as You're Dead to Me, History Hit and The Rest is History.
 
Extra link