Alumna Christina Koning (1972) launched her new book End of Term—the fifth in the Blind Detective series of murder mysteries – in the Fellows' Rooms at Girton College. Christina, who has previously given talks at Girton on both her detective fiction and her earlier novels—including Variable Stars (2011), about the pioneering astronomer, Caroline Herschel, whose gold medal awarded by the Royal Astronomical Society in 1828 is in the College Archive —will also talk about End of Term at a College research evening on 30 October 2018.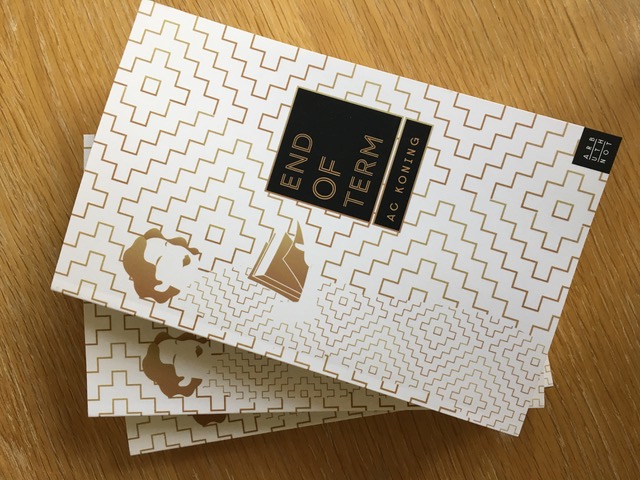 "The idea of writing about a blind detective came to me when I was researching a novel about my grandfather, a soldier in the First World War, who was blinded at Passchendaele" says Christina. 'The fact that my detective, Frederick Rowlands, is blind does not prevent him from using his intelligence—nor his other senses—to solve crimes."
Previous novels in the series, all of which are to be found in Girton College Library, include Line of Sight (Arbuthnot Books, 2014), in which Fred—then working as a telephonist at a firm of London solicitors—overhears a conversation while connecting a call at his switchboard, which may or may not refer to murder. Game of Chance (2015), set two years later in 1929, finds him on the trail of a serial killer with a connection to St Dunstan's, the institute for the war-blinded. Time of Flight (2016) is set in the thrilling and dangerous world of 1930s aviation, while Out of Shot (2017) has Fred travelling to Berlin on the eve of Hitler's rise to power in 1933, and becoming involved in the glamorous Berlin film industry.
After 1930s Berlin, the setting for End of Term—a Cambridge women's college—may seem less exciting, but of course there is just as much scope for murder and mayhem in the quiet haunts of academe as there is anywhere else—or so Fred is to discover. Attending an end of term Garden Party at St Gertrude's College in the summer of 1935, he finds himself caught up in the police investigation following the suspicious death of a research student—discovering, in the course of this, a darker side to the university town.
"Since much of the action of End of Term takes place in a women's college, at a time when women were not awarded the same degrees as men, I wanted to focus on what it must have been like for women students and staff to have their efforts continually undervalued," says Christina. "So there's a definite feminist strand running throughout the plot."
There was another reason why she chose a Cambridge setting:
"As an undergraduate at Girton, I found my imagination stirred by the Victorian Gothic architecture," she recalls. "With its endless corridors and hidden corners, it seemed the perfect place for dark deeds."
End of Term is published by Arbuthnot Books (ISBN 978-0-9927467-7-3) on 6 October 2018, cover price £9.95.