Events
A Very Girton Christmas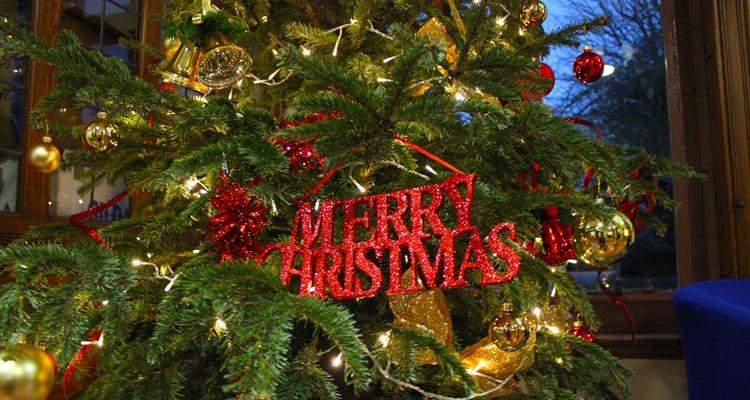 Season's Greetings from all at Girton
---
Festive Messages
From the JCR, MCR, Mistress, and staff
---
A Christmas Carol
You are warmly invited to a new production of A Christmas Carol. Written in 1843 by Charles Dickens 'being a ghost story for Christmas', this novella soon became standard seasonal fare thanks in no small part to Dickens himself who gave over 120 public readings of it before he died.
The story is read for us in this performance by Dickon Tyrrell who is both an actor and Higher Education consultant at Shakespeare's Globe. The musical illustrations, created by Alan Gout and Robert Vanryne, are played on original instruments by the members of Queen Victoria's Consort. The performance was filmed at Girton College: in the Stanley Library, designed by Alfred Waterhouse in the 1880s; the Dining Hall, designed by Alfred's son, Paul, at the turn of the century; and the Fellows Rooms, whose 1930s architect Michael Waterhouse was Alfred's grandson. So please do join us for this very seasonal, very Victorian, very Girton, Christmas Carol.
---
Carols from the Turret
What began as a lockdown jam has now become a seasonal offering for the whole College. We hope you enjoy our carols 'with a twist', from the turret on B corridor.
Carols from the Turret are brought to you by: Harry Camp - Voice, Banjo; Kevin Loh - Voice, Guitar; Nick Maier - Voice, Piano; Rob Jones - Voice, Arrangements; and Thomas Beauchamp - Voice, Melodeon.
---
A Gir-Ten Christmas
Girton presents the Gir-Ten - an ensemble of students, Fellows and friends from subjects spanning science, engineering, law, earth sciences and indeed music. In this performance the 'Ten are: Rachel Armitage, Ailsa Critten, Tessa Doubleday, Shaun Fitzgerald, Richard Henry, Catriona James, Dennis Lindebaum, Alex Liu, Silas Sanders and Susan Smith. The 'Ten are directed by Andy Kershaw, Mary Amelia Cummins Harvey Visiting Fellow Commoner (2020-2021). Recorded in the Dining Hall, these ten-part arrangements are all published by Superbrass Music; there are a few wild moments which we hope you will enjoy.
The carols, all arranged by Jock McKenzie, are:
It Came Upon a Midnight Clear based on a tune adapted from an older English melody by the composer Arthur Sullivan in 1874.
(No Longer A) Silent Night, savaged (with apologies) from a tune composed by Franz Gruber.
Sussex Carol, this traditional tune was discovered both by Cecil Sharp in Gloucestershire and, to wider acclaim, by Ralph Vaughan Williams in Sussex.
Good King Wenceslas, sallies forth on the first day of Christmas, despite the wintry weather, to give alms to a peasant.
Jock McKenzie, is a freelance trumpeter, conductor, composer, arranger and teacher who has established a reputation as a leading creator of brass music resources.
---
Christmas from the Chapel
A message from The Chaplain, Revd Dr Tim Boniface
Carols from the Social Hub
Students picking up their take-away meals to eat at the socially distanced 'Christmas Informal' were thrilled to find that the Chapel Choir had taken over the Social Hub. Screens safely in position, and notwithstanding some background clatter, they performed a series of beautiful carols like these: Past Three O'clock; Silent Night; Jesus, Good Above All Other; While Shepherds Watched their Flocks. In the middle there is, from the Chapel itself, a few strains from Let All the World in Every Corner Sing'. 
'Good News' from a Jazz suite at Christmas
Good News is the bonus track from 'The Infant: A Jazz Suite for Christmas', by the Chaplain, Revd Dr Tim Boniface. Following an eight-part instrumental suite based on the characters from the Christmas story, 'Good News' is a one-take jam session on one of the suite's themes, featuring the renowned Polly Gibbons on vocals, alongside Tim (sax), Phil Merriman (piano) Ed Babar (bass) and Jon Ormston (drums). The suite is available on CD or digitally from Tim's website. Read more here: www.https://jazzjournal.co.uk/2019/10/26/a-jazz-suite-not-just-for-christmas/
The Advent Carol Service
Enjoy the Girton College Chapel Choir singing at the Advent Carol Service, held on Sunday 29 November 2020. 
The Choir's recent recordings can be browsed and purchased via our official online merchandise shop.
---
Activities for the Holidays
A short guide to what activities you can get involved with over the festive holidays, in and outside of Cambridge.
Girton College Biodiversity
While walking around the College grounds you can record and photograph any plants and animals that you see using the iNaturalist app/website.
A good winter challenge is to find at least two flowering plants each day!​​
Explore online or download the app: https://www.inaturalist.org/projects/girton-college-biodiversity

Cambridge SU 
Have published a Winter Holiday Activity Guide, with tips and tricks for a Christmas holiday in Cambridge and lots of ideas for festive activities.
View on Google Docs: https://docs.google.com/document/d/14ZC1VDW-Ejb5Ev1QBqBw5CVGfDd5ddsDiXEcvLZJfVE/edit?usp=sharing