Green Conferencing
Our initiatives
Girton has a strong, College-wide ethos of reducing our carbon impact and energy consumption, and living and working sustainably, Students, Staff and Fellows join together each year to participate in the Green Impact initiative, taking large and small steps to achieve our ambitious sustainability targets. 
---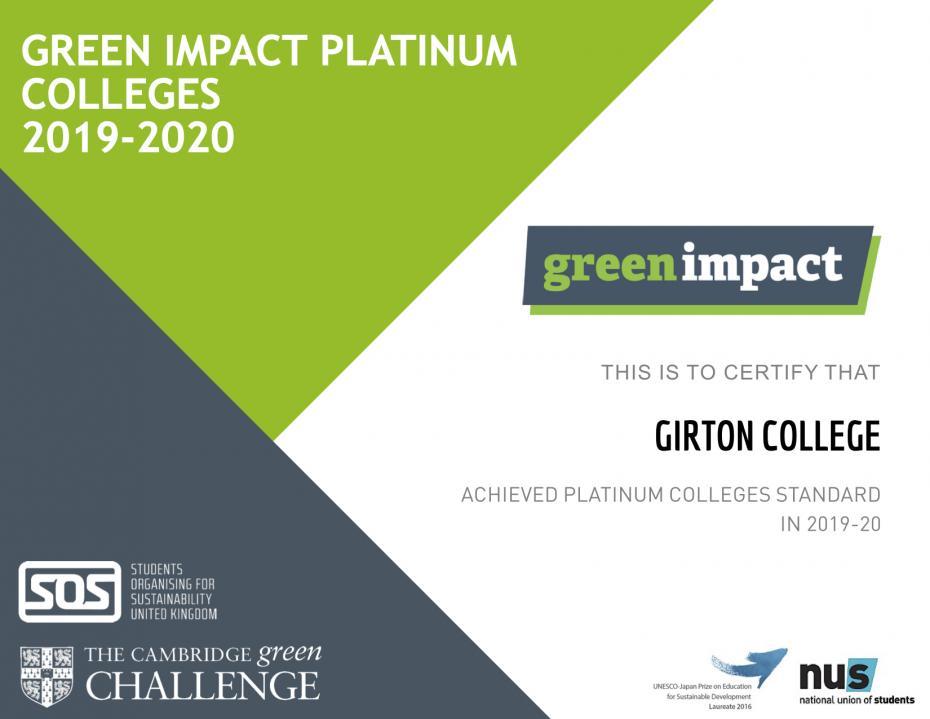 Facilities
Throughout the site we aim to minimise energy consumption, through tightly controlled levels of heating, thermostatic radiator valves low energy lighting and "green patrols" by our porters and maintenance staff, closing windows, and switching off lights and appliances.
Ash Court, our newest residential wing was built with a Passivhaus approach, maximising the energy performance of the building and employing simple, robust strategies such as substantial insulation, to yield extremely low levels of energy consumption. Proportionate and sensible heating controls allow user control for comfort while minimising energy loss. Exemplary fabric performance standards were met, resulting in an airtight building. U-values surpass regulatory requirements. In addition, a 190 sqm photovoltaic array was carefully incorporated into the pitched roof, providing nearly half of the building's demand for electricity.
Catering
We cater as sustainably as possible, with minimum waste. Vegan and vegetarian options are standard and we use local and seasonal produce wherever we can. We serve Fairtrade tea and coffee and use compostable vegware for takeaway items. Water for meeting rooms is served in glass bottles, refilled on site.  Our gardeners grow herbs for the Chefs and we have an annual Apple day, using rare fruit varieties from our historic Orchard.  We can provide an entirely sustainable menu for your Gala dinner should you wish.
Green Spaces
Visitors to Girton can take full advantage of our wonderful woodland site and gardens. We provide a self guided garden tour, and will also work with organisers to ensure that your event takes delegates outside as much as you wish. Students and staff participate in biodiversity monitoring, to help us maintain and secure a rich variety of habitats for wildlife.
Paper and Printing
We aim to be paperless, using electronic systems to avoid printing where possible. Our paper is recycled, and we have smart boards in most of our meeting rooms, to avoid the need for paper based presentations. 
Waste and recycling
There are recycling bins in all the kitchens and dining areas and we positively encourage residential delegates and visitors to segregate and recycle waste. 
Travel
Girtonians are keen cyclists, out of necessity as well as preference! We provide dedicated visitor cycle racks and bike lights and safety gear can be purchased at the lodge. Local buses will bring you from the City centre to Girton corner, just 5 minutes walk from the main entrance. 
Sustainability
Girton is a low carbon College, working towards environmental sustainability, ethical investment and advancing Net Zero
Discover more