Sustainability
Green Girton
Girton is a low carbon College, working towards environmental sustainability, ethical investment and advancing Net Zero
Situated in 50-acres of parkland Girton is rooted in nature and committed to sustainability. Making the most of our wildlife habitats, Victorian flowering borders, heritage orchard and more, we promote biodiversity onsite. Harnessing the research skills of our scholarly community, we have made the theme Our Fragile Planet the centre-piece of our academic activities for 2020-22.
In line with the University, Girton is committed to a zero net carbon target by 2048, with aspiration to reach this ahead of that date and significant planned reductions of scope 1-3 emissions over the next 5 to 10 years including removing significant gas installations where possible.
From investment strategies to energy use, from catering to recycling, and in support of all who want to save their planet from irreversible environmental damage, our whole community works towards maximising Girton's green impact.
Important facts and figures
Girton received the Platinum Green Impact Award from the University's environmental accreditation scheme, in 2020-21 and received the following feedback: 

"Sustainability is absolutely embedded in Girton College, it's fantastic to see that all of their decisions are informed by a proper assessment of sustainability and product lifecycles." 

"We were particularly impressed by your initiatives to tackle waste, including the reusable container scheme, engagement initiatives such as garden walks, and the formation of the new Green Society."   

Girton received a Platinum Green Impact Award from the University's environmental accreditation scheme, in 2019-20. 77 out of a possible 95 actions were completed over 2 terms.
Girton received a Gold Green Impact Award from the University's environmental accreditation scheme, in 2018-19. 70 out of a possible 92 actions were completed over 2 terms.
Biodiversity monitoring: Over 200 species of moths were recorded by students in the grounds in 2018–20 with more than 800 records passed to the National Moth recording scheme.
Coming soon: A report detailing the College's sustainable activities 2019–2020.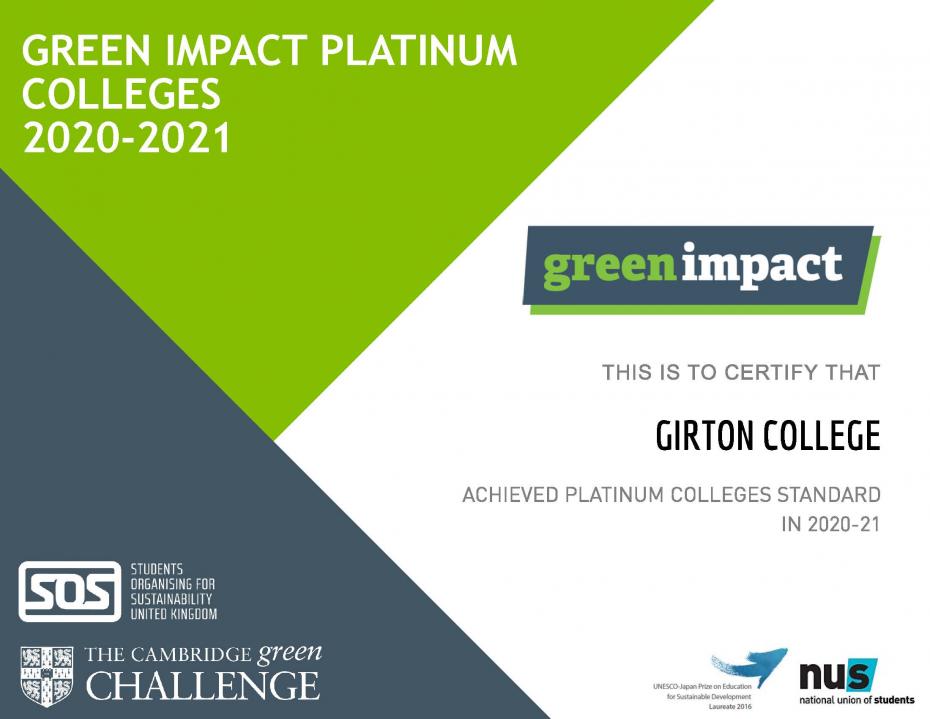 Responsible Investment
Girton College requires its investments to be managed responsibly and its funds invested to meet demanding ESG benchmarks. Please click through for a fuller statement of our responsible investment policy. 
Girton Conversations: Our Fragile Planet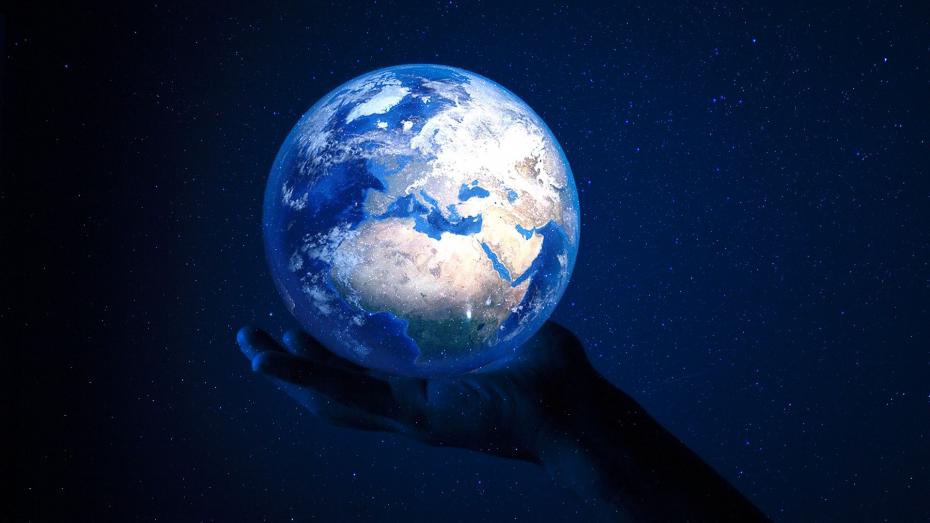 Girton is pioneering a new initiative, "Girton Conversations" which is designed to address major issues with wide relevance in a way which crosses academic disciplines and involves all members of the college community. The theme for 2020-21 is "Our Fragile Planet" and will be addressing questions including:
 
•    How can we better understand and appreciate the world we inhabit?
•    What connections are there between studying the world and changing it?
•    How serious are the threats earth faces and what responses are required?
•    Can science and technology alone solve the problems or is there a moral dimension?
•    Is the current economic system able to work towards a sustainable world?
 
Further information regarding this initiative may be found on our Girton Conversations pages.
Excellence
Girton is a centre for world-class learning and research within the collegiate University of Cambridge
Discover more