Rt Hon the Baroness Hale of Richmond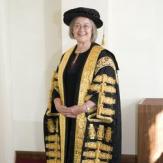 College position(s)
The Visitor
The College's Visitor is the Rt Hon the Baroness Hale of Richmond DBE PC QC FBA.
Lady Hale has pursued a varied career as an academic lawyer, Law Commissioner and Judge. She was educated at Richmond High School for Girls in Yorkshire and Girton, where she graduated in Law in 1966. She then went on to teach Law at Manchester University for 18 years, also qualifying and practising as a barrister for a while, before concentrating on her academic career. She specialised in Family and Social Welfare Law and published several books, one of which is now in its 6thedition and another about to enter its 5th.
In 1984 she became the first woman to be appointed a member of the Law Commission, a statutory body set up to promote the reform of the law. There she led the work of the family law team, which eventually resulted in some major pieces of legislation, principally the Children Act 1989 and the Mental Capacity Act 2005.
She was appointed to the High Court (Family Division) in 1994, and subsequently a Lord Justice of Appeal in 1999. She was the first woman to be appointed to the House of Lords as a Lord of Appeal in Ordinary in 2004, and on 1 October 2009 she became one of the first Justices of the Supreme Court of the United Kingdom. On 2 October 2017, she was appointed the first female President of the UK's Supreme Court, succeeding Lord Neuberger.
Lady Hale became an Honorary Fellow of the College in 1995, before being elected Visitor in 2004. She was also appointed Chancellor of the University of Bristol, as ceremonial head of the University in March 2004 and stepped down in December 2016.