Professor Susan J Smith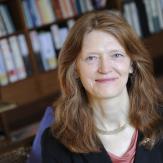 College position(s)
Life Fellow
Specialising in
Former Mistress (2009-2022)
Role and responsibilities
I have been Mistress of Girton, that is, the Head of this College, since 2009. My role is to support and promote the interests of all who live and work here. This includes striving for good governance, promoting scholarly excellence, encouraging all-round personal development, and overseeing a supportive, inclusive educational community.
Research themes
My research is about house prices, mortgage markets and the financial instruments associated with them. I work at the boundary between sociology and economics, so my starting point is to consult households (in the UK and Australia) about their experiences, beliefs and behaviours.
I also have a keen interest in the geography of health inequalities, the challenge of residential segregation, and the compatibility of markets with an ethic of care.
I speak and write frequently on these and related subjects. For example, in 2010 I gave the Tanner Lectures on Human Values at Clare Hall, which you can view at the University of Cambridge's audio & video collections website.
Teaching responsibilities
The sliver of my time available for teaching is spent in the Geography Department, where I am an Honorary Professor. My lectures currently focus on housing, mortgage and financial markets. I also supervise PhD students where appropriate.
Other
Prior to moving here, I was Professor of Geography and a founding Director of the Institute of Advanced Study at Durham University, and before that, Ogilvie Professor of Geography at the University of Edinburgh.
Degrees, Awards and Prizes
MA, DPhil (Oxon), FBA, AcSS, FRSE