Professor Crispin Barnes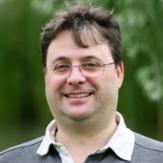 College position(s)
Fellow
Subject
Natural Sciences (Physical and Biological)
Specialising in
Physics; Professorial Fellow
Degrees, Awards and Prizes
BSc, PhD (London)
Research Themes
Condensed matter physics.
Solid state quantum computation.
The simulation and detailed understanding of electronic devices grown epitaxially with full three-dimensional control over patterning of deposited ionic species.
The development and simulation of non-invasive probes to interacting many-particle systems.
Responsibilities
I teach Advanced Quantum Condensed Matter Physics (Part III Major option) and Quantum Information (Part III Minor option). I also supervise PhD students.
Extra Links