Ms Frances Gandy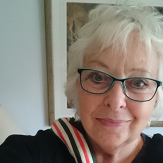 College position(s)
Life Fellow
Degrees, Awards and Prizes
BA, MA, MCLIP
Research themes
Recent projects focussed on the work of William James, Gertrude Stein, and the nineteenth-century historical and literary backgrounds to the work of Cormac McCarthy. My key research area throughout has been the work of Wallace Stevens.
Responsibilities
Before retiring fully in 2016, I supervised in English and American Literature for Girton and other Cambridge colleges, I was on the English Faculty Subject Group Committee for the teaching of U.S Literature and lectured occasionally for the Faculty.
Other
I have been a Fellow at Girton since 1987 when I was appointed Librarian and Curator, and I retired from these posts at the end of September 2015. In that role I was Head of Department for the care and promotion of the College's collections – libraries, archive, special collections and pictures. I was part of the team responsible for the Lawrence Room antiquities collection and I worked with the Royal Society of Portrait Painters in curating and promoting the People's Portraits exhibition. I acted as Project Coordinator for the extension to the Library (The Duke Building), and was closely involved in the design development process and the fundraising. The building went on to win three national awards – RIBA, Civic Trust and SCONUL.
I was an undergraduate Tutor for 10 years from 1993 and then served as Graduate Tutor for Sciences for 13 years from 2003 until 2016.
I was elected to a Life Fellowship in 2015.