Mr Peter C J Sparks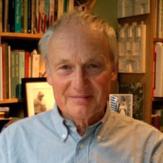 College position(s)
Life Fellow
Degrees, Awards and Prizes
MA, Dip Arch, RIBA ARB (retired)
Research Themes
I am now fully retired from practice and from my University and College roles and am not research-active. My early research was into the social, urban and political constraints on housing provision, notably in facilitating the re-development of existing stock through close involvement with occupiers. This work was developed with Charles Thomson and Colin Wills as a live project in the east of Cambridge. Following the move from my partnership in private practice to a Cambridge University Lectureship in Architecture my teaching role led me to work on the relationships between traditional and innovative building methods, and aspects of the traditional and experimental uses of materials.
Alongside this I have concentrated on innovative approaches to the teaching of the First Year Design Studio which I ran for many years in the Department of Architecture. A significant component of this was a residential History and Theory course based in Rome, which in turn led to a growing interest in the establishing, use and meaning of urban space. I am little published, but take vicarious pride in the publications and designs by the many graduates to whose education I have contributed. Many now play important roles in architectural practice and academia worldwide.
Responsibilities
Over thirty years' in the University Department of Architecture my primary interest was in developing carefully structured series of studio design projects. I am probably best known for my First Year design studios which aimed to galvanise in each new student from their first day an essential creative enthusiasm. However I have taught at all undergraduate and graduate levels, with a series of studios addressing issues of urban and building design in the UK and Europe. In parallel my lecture courses for parts Ia and Ib covered materials – their science, use, assembly, imaginative use and performance – and, for part II, procurement for construction based around visits to and analysis of significant major buildings under construction. At various times I have directed studies in Architecture for most of the colleges of the University but my primary college role has been as Director of Studies in Architecture at Girton, 1979–2006.
Other
I spent five years (1994–99) as Domestic Bursar of the College, enjoying the privilege of working closely with the Bursar and with all staff, Fellows, undergraduates and graduates to inaugurate new approaches to the running and development of the College's buildings and grounds. Within College I edited the College Annual Review (now The Year) for 12 years, have been involved in the re-development of the Lawrence Room – the College's unique museum of the ancient world – and have played both hockey and cricket for the College.
As a Life Fellow, I was Steward for College Silver and Antiques until 2017, cataloguing the College holdings of silver, antique furniture, clocks and oriental rugs. I still take great pleasure in the unique College Poetry Group, and still play a little cricket.
Winner of a number of competitions and national awards whilst partner in a London/Cambridge architectural practice.