Mr Jeremy West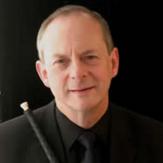 College position(s)
Musician in Residence
Jeremy has a distinguished playing career which has taken him to 28 countries. He is a founder member of His Majestys Sagbutts and Cornetts – the leading ensemble of its kind – and is Principal Wind Player with the Gabrieli Consort and Players for their earlier repertoire. He has more than 60 recordings to his credit.
He teaches at the Guildhall School of Music and Drama in their Historic Performance and Brass departments. In his spare time he plays Eb Horn – an instrument about which he is passionate – for the City of Cambridge Brass Band.
Since the mid 1970s, he has been an evangelist for the cornett (the often-overlooked wind instrument which was held in highest esteem during the sixteenth and seventeenth centuries). He played a leading role in re-establishing this instrument as a recognised and accepted virtuoso and ensemble instrument, and he now has thirty-five years of top-class playing and recording experience with many of Europe's leading renaissance and early baroque ensembles. Jeremy has on several occasions been acclaimed a 'pioneer' of his instrument.
Since 1991 Jeremy has directed the instrument-making workshops of the late Christopher Monk. These workshops are devoted to the research, development, reproduction and world-wide distribution of all instruments in the cornett and serpent families. Examples of the workshop's output, and in particular the extraordinarily popular resin cornett – an instrument which has inspired and enabled the majority of today's players – may be found from New York to New Zealand, Scandinavia to South America.