Dr Soudabeh Imanikia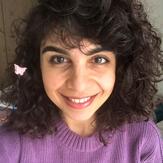 College position(s)
Fellow
Subject
Natural Sciences (Physical and Biological)
Specialising in
Bye-Fellow in Biological Sciences
Degrees, Awards and Prizes
BSC, MSc, PhD
Member of Royal Society of Biology (MRSB)
Research themes
Cancer Genomics 
Molecular Diagnostics
Protein Quality Control
Ageing and Neurodegenerative Diseases 
As a Molecular Diagnostics expert I use my expertise in late oncology, clinical trials. 
Responsibilities
I teach Natural Sciences Tripos, Part IA, Biology of Cells.
Other
Molecular Diagnostic Science Manager, AstraZeneca.

7 years of postdoctoral/senior scientist experience in molecular biology at MRC Laboratory of Molecular Biology, Cambridge, UK.
Independent STEM Ambassador for East England.
Highly involved in public engagement activities throughout PhD and postdoctoral career.