Dr Ruth M L Warren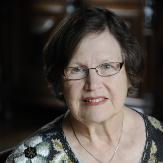 College position(s)
Life Fellow
Degrees, Awards and Prizes
MA, MD, FRCP, FRCR, DCH
Research themes
My consultant medical career began in Harlow, where I developed the service including introducing the techniques of modern radiology – arteriography, ultrasound, nuclear medicine, CT, MRI and breast screening. All this management led to my being asked to be Medical Director, a role I held for 3 years, while initiating research for an MD and in multicentre trials of breast screening.
From 1996 in Cambridge I was able to develop my research in various aspects of breast cancer: trials of mammographic breast screening, breast MRI, risk, genetics and lifestyle risk factors. I led the radiology of a big UK national trial on comparison of breast MRI screening with mammography in women with the breast cancer susceptibility genes BRCA1&2. My research continues to a small extent alongside new interests in languages, music, and sports – things for which a medical career allows little time.
Responsibilities
I have had an interest in teaching throughout, teaching students from the London Hospital at Harlow & teaching professionals in aspects of breast screening. My transfer to Cambridge enabled me to develop my teaching roles in Radiology where I led the training of radiologists in Eastern Region with huge expansion in a developing speciality, and in Girton where I was pleased to be involved in the development of clinical medical students, preparing them for their clinical careers. I also supervised PhD students.
Other
From 1996-2007: Director of Studies in Clinical Medicine and Supernumary Fellow.
Former Consultant Radiologist, Addenbrooke's Hospital and Associate Lecturer at University of Cambridge.
1995 Ralph Noble Prize MD.
2004 Platinum level Clinical Excellence Award, NHS.
Extra links