Dr K M Veronica Bennett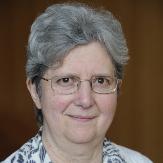 College position(s)
Life Fellow
Subject
Natural Sciences (Physical and Biological)
Specialising in
Biological Sciences
Degrees, Awards and Prizes
BSc(Hons) (Leicester), PhD (CNAA), MA.
Fellow of Higher Education Academy
Research themes
My research interests have ranged from transmissible drug resistance in bacteria (work that yielded the genetic evidence for the first transposon to be discovered), through mitochondrial genetics and a PhD in the control of the yeast cell cycle. Postdoctoral research in control of cell division in mammalian cells indicated the importance of cell death as well as cell division in the control of growth. After interludes as full time mother and as scientific and commercial computer programmer, I embarked on a second scientific career, thanks to the Daphne Jackson Trust and Lucy Cavendish College, in plant – insect interactions, working on the diversity of insects associated with bramble in the Department of Zoology, and on how bee cognition and colour perception influence the evolution of flower traits involved in attracting pollinators, within the Department of Plant Sciences.
Other
I came to Girton as College Lecturer in Biological Sciences in 2001, and was Director of Studies for first year Biological Natural Sciences between 2003 and 2015; Admissions Tutor for Arts, 2004-2013, Undergraduate Tutor 2012-2014 and Secretary to Council 2013-2016.
I have supervised for Girton and other Colleges in IA Evolution & Behaviour, IA Physiology of Organisms, IA Biology of Cells, IB Ecology and IB Plant & Microbial Sciences, and I enjoy working with students to explore the connectedness of everything: how our knowledge of molecular biology can inform our understanding of ecology and whole organism biology, and how ecological and evolutionary principles can make sense of molecular mechanisms observed in the laboratory.