Dr Claire E White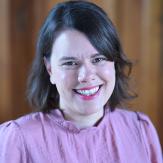 College position(s)
Fellow, Director of Studies
Subject
Modern and Medieval Languages
Specialising in
Brenda Stacey Official Fellow
Degrees, Awards and Prizes
BA, MPhil, PhD
Research themes
I specialise in nineteenth-century French literature and art, and I have particular interests in class, labour politics, aesthetics, and intellectual history.
In my first book, Work and Leisure in Late Nineteenth-Century French Literature and Visual Culture (2014), I explored how writers and artists of the early Third Republic engaged with burning issues of labour and leisure politics at a key moment in the history of class struggle in France. I have also written various journal articles on related questions of idleness and anarchism; Karl Marx's early critique of capitalism; and utopian thought.
I am co-editor (with Marcus Waithe) of The Labour of Literature in Britain and France, 1830-1910: Authorial Work Ethics (2018). This book examines a range of British and French authors' attitudes to the strong association of work and writing in this period. My work on individual writers has resulted in two other projects: I have co-edited (with Nick White) a special number of the leading journal on Émile Zola and Naturalism, Les Cahiers naturalistes ('Zola au pluriel', no. 91, 2017), and (with Sam Bootle) a special number of the journal of the Society of Dix-Neuviémistes, Dix-Neuf, on the poet Jules Laforgue (vol. 20, 2016).
My current book project is a study of Zola's negotiations with idealism. It reconstructs the 'quarrel' between idealists and naturalists from the 1880s to the turn of the century, and looks at how this struggle shaped the evolution of Zola's fiction, and of the novel in general. The book takes in Zola's controversial account of the Lourdes shrine, on which I presented at the Paris Zola ITEM seminar in 2017, as well as his involvement in the Dreyfus Affair.
Selected publications:
'Patrie, peuple, amitié: George Sand and Jules Michelet on the Politics of Friendship', forthcoming in Romanic Review.
The Labour of Literature in Britain and France: Authorial Work Ethics, ed. Marcus Waithe and Claire White (Palgrave, 2018).
'George Sand, Digging', in The Labour of Literature in Britain and France, ed. Waithe and White (2018), pp. 61-78.
'Zola à rebours', Les Cahiers naturalistes, 91 (2017), 123-34.
'Laforgue, Beauvoir, and the Second Sex', Dix-Neuf, 20 (2016), 110-24.
'Easy Reading: Zola's Kitsch', in Lucidity: Essays in Honour of Alison Finch, ed. Ian James and Emma Wilson (Legenda: 2016), pp. 72-85.
'Work Avoidance : Idleness and Ideology in Turn-of-The-Century Utopian Fiction', Nottingham French Studies, 55 (2016), 46-61.
'Sensuous Communism: Sand with Marx', Comparative Literature, 67 (2015), 62-78; winner of the SDN Publication Prize.
'Naturalism in extremis: Zola's Le Rêve', Romance Studies, 33 (2015), 272-84.
Work and Leisure in Nineteenth-Century French Literature and Visual Culture: Time, Politics and Class (Palgrave, 2014).
'Zola and Freud: Spent Energy in Thérèse Raquin', Romanic Review, 102:4 (2011), 349-68.
'Labour of Love: George Sand's La Ville noire and Émile Zola's Travail', Modern Language Review, 106 (2011), 697-708.
'Rewriting Work and Leisure in Émile Zola's Travail', Dix-Neuf, 13 (2009), 55-70.
Responsibilities
In the MML Faculty, I convene the final-year undergraduate paper on nineteenth-century French culture. I lecture across all parts of Tripos on writers such as Balzac, Mme de Duras, Flaubert, the Goncourt brothers, and Zola, as well as on nineteenth-century painting.
In College, I supervise first-year Girton students for most components of their 'Introduction to French Literature, Linguistics, Film, and Thought' paper; and I supervise students from Girton and other Colleges who work on nineteenth-century France. In Girton, I am Director of Studies for Part IB MML.
Other
I completed my undergraduate and postgraduate degrees in Cambridge (Emmanuel College then Clare College), before taking up a Research Fellowship at Peterhouse (from 2011-15). During most of this period I was also an unestablished Lecturer in the French Department. In 2016, I began a Lectureship at King's College London, before returning to join the Modern and Medieval Languages Faculty as University Lecturer in 2017, at which point I became an Official Fellow at Girton College.
Extra links