Dr Ben J Griffin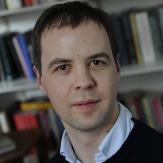 College position(s)
Fellow, Director of Studies
Subject
History and Modern Languages, History, History and Politics
Degrees, Awards and Prizes
MA, PhD
Research Themes
My research is on nineteenth century British political history and gender history.  I am particularly interested in how the behaviour of political elites has been shaped by transformations in ideas about masculinity.
I recently won the the Royal Historical Society's Whitfield Prize for the best first book on British history in 2012. My first book 'The politics of gender in Victorian Britain: masculinity, political culture and the struggle for women's rights' argues that changes to women's rights were not simply the result of changing ideas about women but also changing beliefs about masculinity, religion and the nature of the constitution.  In doing so, it argues that we need a more sophisticated history of feminism, and it demonstrates how gender inequality can be created and reproduced by the state.
My next research project is a study of how gender politics has shaped the development of family law in Britain since the middle of the 18th century.  It will explore how divorce law, child custody law, and the law relating to sexuality were influenced by changing conceptions of paternity, maternity, childhood, marriage and the role of the state.
Responsibilities
I teach the Part I papers on British political history 1700-1914 and 1867-present.  I also teach a third year course on 'The politics of gender in Britain, 1790-1900'.
I have also recently supervised third-year dissertations on 'The memory of Palmerston among later 19th century politicians'; 'Communism within the political propaganda of the Conservative Party, 1931-39'; 'Joseph Chamberlain, Liberal Unionism and the politics of coalition'; 'Popular Conservatism in 19th century Colchester'; and 'Aldershot and the Contagious Diseases Acts, 1867-1886'.
I am currently supervising a PhD on the development of state welfare provision in the early twentieth century.
Other
Prince Consort and Thirwell Prize (2005), Seeley Historical Medal (2005), Early Career Fellowship at the Centre for Research in the Arts, Social Sciences and Humanities in Cambridge (2008).
Winner of the 2012 Whitfield Prize for his first book 'The Politics of Gender in Victorian Britain – Masculinity, Political Culture and the Struggle for Women's Rights' (Cambridge University Press, 2012).
Extra Links