Events
GCMS Presents A Virtual Lent Term Concert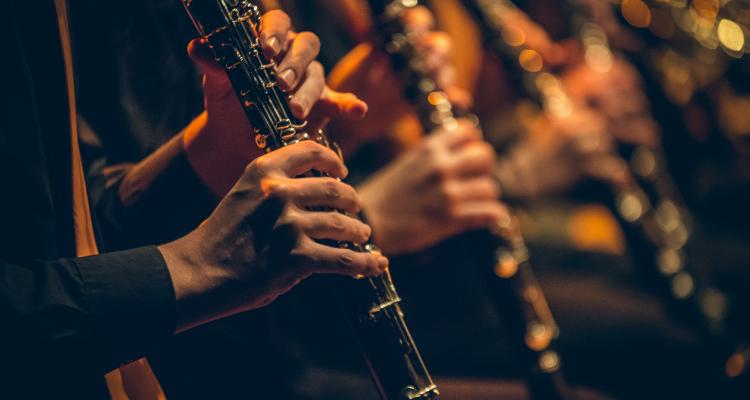 Fantastiestücke, Op. 43 - Niels Gade (1817 – 1890)
Larghetto con moto; Allegro vivace; Ballade; Allegro molto
Madeleine Morris (clarinet)
Sam Rudd-Jones (piano)
Niels Gade is widely regarded as Denmark's greatest composer of the mid-Romantic period.  He taught and influenced several Scandinavian composers including Edvard Grieg, Carl Nielsen and Otto Malling.  His music often exhibits the influence of Mendelssohn and Schumann, and the Fantasy Pieces, written and published in 1864, were probably inspired by Schumann's Fantastiestücke, Op. 73, of 1849.  Three of the four pieces are written in a conventional mid-Romantic style.  The 'Ballade', however, is a stylised version of a Nordic folktale.  The Op. 43 collection, originally intended for either clarinet or violin, is one of Gade's most popular, as demonstrated by various arrangements.
---
Intermezzo in C major and Rhapsodie in E flat major – Johannes Brahms (1833 – 1897)
(from the Clavierstücke, Op. 119)
Sam O'Neal (piano)
Composed in 1893, Brahms's Op. 119 collection of piano pieces was one of the composer's final works.  Deeply nostalgic and exquisitely crafted, these four pieces demonstrate Brahms's ingenuity, pushing the limits of the piano within a tonal idiom.  No. 3 is a gentle, dance-like miniature; it is followed by No. 4, a jubilant work that, unusually, starts in the major and ends in the minor.  Aspects of the Intermezzo are drawn on and expanded in the Rhapsodie, a recurrent feature of Brahms's cycles.
---
Fantasia No. 4 in D major for solo violin, TWV 40:17 – 
G. Ph. Telemann (1681 – 1767)
(from Twelve Fantasias for Violin without Bass)
Vivace; Grave; Allegro
Louie McIver (baroque violin)
In the 1730s Telemann wrote various collections for solo instruments, including sets for flute and viola da gamba.  A highly proficient violinist, Telemann composed a total of 12 fantasias for solo violin.  The Fantasia in D major is bookended by two fast movements, the latter a delightful gigue.
---
Suite No. 1 in G minor, Op. 131d No. 1 – Max Reger (1873 – 1916)
Molto sostenuto; Vivace; Andante sostenuto; Molto vivace
Robert Jones (viola)
In his short lifetime, Max Reger composed over two hundred works.  A great supporter of 'absolute' music, he never wrote for the theatre despite his breadth as an orchestral, choral and chamber composer.  Written in the last year of Reger's life, the Suite in G minor for solo viola is the first of three that, together, explore every expressive possibility of the instrument.  Reger was considered a 'second Bach' during his lifetime, and these suites are in the tradition of Bach's cello suites and violin partitas and sonatas.
---
Sarabande (from Pour le piano, L. 95) – Claude Debussy (1862 – 1918)
Allegretto and Animato (from Visions fugitives, Op. 22) – Sergei Prokofiev (1891 – 1953)
Jemma Starling (piano)
Debussy's Sarabande, which dates from 1894, initially formed part of a collection called Images oubliées. It was revised in 1901 for inclusion in the suite Pour le piano.  The composer noted that the movement, marked 'slow and with solemn elegance', should be played 'rather like an old portrait in the Louvre'.  The Allegretto and Animato are the third and fourth numbers from Prokofiev's Visions Fugitives, a cycle of twenty piano miniatures put together in 1915–1917.  The work is noted for its use of dissonance and for the contrasts between individual pieces of the cycle.
---
Fantasy on 'Der Freischütz' – Paul Taffanel (1844 – 1908)
Lloyd Hampton (flute)
Ellis Thomas (piano)
A highly successful performer and conductor, as well as a professor at the Paris Conservatoire, Paul Taffanel was responsible for founding the modern French school of flute playing.  His Fantasy on 'Der Freischütz', one of five operatic fantasies for flute, is based on three themes from Carl Maria von Weber's landmark Romantic opera.  The operatic fantasy grew rapidly in popularity during the nineteenth century, as it allowed for virtuosity (in this instance exploiting the technical and expressive capabilities of the recently invented Boehm system flute) while engaging audiences with melodies drawn from well-known operas.
---
Klaviersonate, Op. 1 – Alban Berg (1885 – 1935)
Emma Scott (piano)
The Klaviersonate, first published in Vienna in 1910, was composed following a period of study of sonata forms with Berg's teacher, Schoenberg.  Although only loosely centred around the tonic key of B minor, it is distinctly in sonata form and was originally conceived as the first movement of a multi-movement sonata.  However, months after completing the opening movement, Berg was still lacking inspiration for the rest of the work and Schoenberg, on hearing the movement, advised him to publish it as a free-standing piece.
---
Valseana (from Aquarelle) – Sergio Assad (b. 1952)                 
Sevilla (from Suite Española, Op. 47) – Isaac Albéniz (1860 – 1909)
Kevin Loh (guitar)
'Valseana' is the middle movement of the Aquarelle by Brazilian guitarist and composer Sergio Assad.  A beautiful dreamlike waltz, it is set against two outer movements full of energy and vibrancy; all three movements are linked by a three-note motif.  Albéniz's 'Sevilla' is the third piece from his Suite Española, Op. 47, originally for piano.  Much of Albéniz's music clearly showcases his Spanish roots.  The Suite frequently includes guitar figurations and, as a result, it has been transcribed so frequently for classical guitar that it has become one of the most important works of the classical guitar repertoire.
---
Hear My Prayer – Moses Hogan (1957 – 2003)
Girton College Chapel Choir
Directed by Gareth Wilson
Soprano
Alto
Tenor
Bass
Jessica Clayton
 
Claire Coates
 
Esme Beaumont
 
Thomas Beauchamp
 
Ailsa Critten
 
Frances Conboy
 
Felix Elliott
 
Henry Colbert
 
Catriona James
 
Aiseosa Eweka-Okera
 
Luke Tutton
 
Dennis Lindebaum 
 
Maddy Morris
 
Charlotte Howdle
 
Joe Wardhaugh
 
Louis McIver
 
Sophie Richardson
 
Emily Nott
 
Tom Williamson
 
Jasper Newbold 
 
Hannah Samuel
 
Alice Rivers
 
Sam O'Neal
 
Emma Scott
 
 
 
Ben Pymer
 
Jemma Starling
 
 
 
Jacob Robinson
 
Emily Tarry
 
 
Mark Sawney
Moses Hogan was an American pianist, composer and conductor best known for his arrangements of spirituals.  Hear my Prayer, however, is an original piece for SATB choir for which Hogan wrote the text as well as the music.  It might therefore be regarded as an example of a 'choral spiritual', a genre he is credited with introducing.  This recording was made in Girton College Chapel on 17 October 2020, as part of the Ceremony for the Commemoration of Benefactors.
---
Another Cat: Kraken – Chris Hazell (b. 1948)
Gir-Ten Brass
Rachel Armitage, Ailsa Critten, Tessa Doubleday, Shaun Fitzgerald, Dennis Lindebaum (trumpet); Jeremy West (horn); Catriona James, The Mistress (euphonium); Alex Liu (trombone); Andrew Kershaw, Silas Sanders (tuba); Joe Wardhaugh (double bass)
When three stray tomcats wandered into composer Chris Hazell's house, their personalities immediately captured his imagination.  The result was a suite of Three Brass Cats written, in ten parts, for the Philip Jones Brass Ensemble.  It turned out that the world of brass is full of cat-lovers...  So, a few years later Mr Jums, Black Sam and Borage were joined by Three More Cats, Flora, Tubby Mousetrouser and Homepride.  In between, with a composition wholly her own, is Another Cat: Kraken – part of Hazell's original feline family and half the size of the rest, she clearly ruled the roost.  Listen out for her stomping gait, and take care as the mesmerising fugue wraps you round her little claw.  In tribute to Girton's feline family and wider menagerie, the Gir-Ten present Kraken.