Searching for Books
Using the College Library
There are two key library catalogues you may use when studying at Cambridge:
Girton Library catalogue (Heritage) – search Girton Library's book collection and see if items are available or already on loan. Find it via the Library website and at dedicated catalogue terminals on the ground floor of the Library.
iDiscover use this to search across the whole University of Cambridge's library collections (including eBooks). Most, but not all, of Girton's library books can be found here.
For the time being, we advise users to check Girton's holdings via Heritage rather than iDiscover because only two-thirds of Girton Library's holdings are listed on iDiscover and it does not show availability. If you refine by availability in iDiscover and select the option "Available in the Library", your results may exclude material available in Girton College.
Getting started on Heritage
Go here to visit the Library's catalogue. Click Enter Catalogue. Type some search terms (see below for more guidance). If you wish to make your search more precise, use Guided Search instead.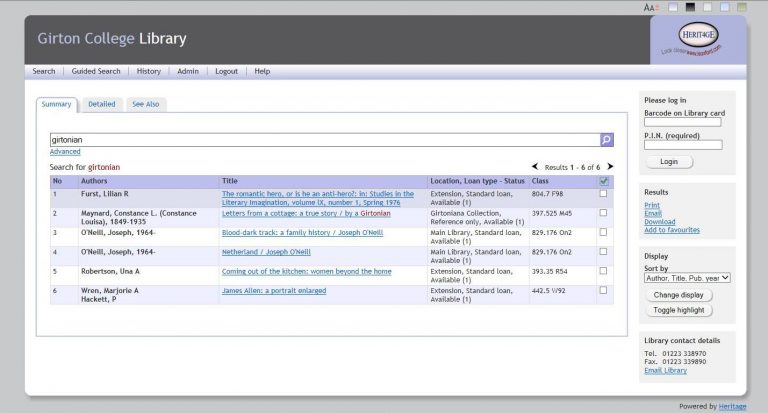 When you have a list of results, click on the title to see more detailed information. Make a note of the classmark (Class) and location of the book. Collect the book from the shelf.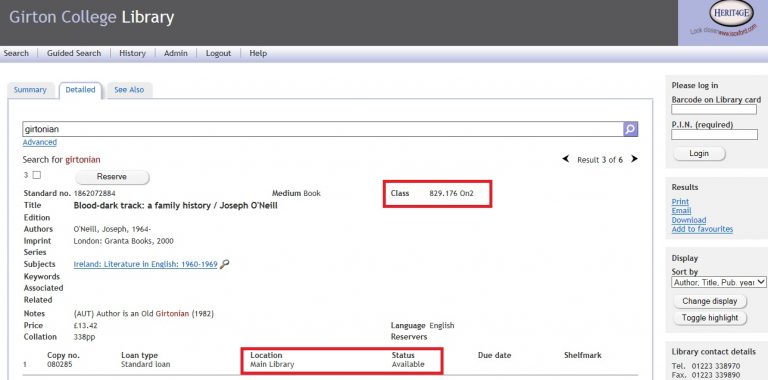 General Search
You can make your search as broad or as specific as you wish. Search terms can be combined to make your search more precise by specifically including or specifically excluding particular words. To search for a specific work, you might select a word from the author and another from the title and combine them; type them into the search box with a separating term (AND, OR, or AND NOT). For example:
A search using the terms shakespeare and hamlet will bring up all the editions of Shakespeare's play Hamlet plus all the works about Shakespeare's Hamlet.
A search using the terms hamlet and not shakespeare will bring up books which are about hamlets (in the sense of small villages) or plays and novels by writers other than Shakespeare, for example, William Faulkner.
A search using the terms macbeth or hamlet will bring up all the editions of either play plus all the works about either play.
Guided and Advanced Searches

The guided search option allows you to make your search more precise. For example:
You can specify where you want your search terms to appear in the catalogue record, e.g. Shakespeare as the author rather than the subject of a book.

You can restrict the search to particular types of material, e.g. books, DVDs, etc., using the type of media drop-down list.
The advanced search option works in a similar way but gives greater flexibility in the possible combinations of search terms and media.
Help within College
Introductory tours are held at the beginning of each academic year. Tours include a catalogue demonstration. You can ask questions by emailing library@girton.cam.ac.uk  or go to the Main Library's issue desk. Library staff are happy to help with any search difficulties you may have.
Book not in stock?
If you need a specific book and can't find it in Girton, use iDiscover to find if the item is available somewhere else. You will be able to:
Check availability at your Faculty/Departmental library. Check the University Library (this is a legal deposit library so most books published in the UK should be stocked in the UL).
See if there is an eBook available.
You can recommend a book using a paper form available from the issue desk. The book needs to be on a tripos reading list, not in stock (or a newer edition), and still be in print. We may be able to buy it and reserve it for you, after contacting your Director of Studies.
Special collections
A small card catalogue in the Upper Library offers an index to the special collections. Cards are arranged alphabetically by author or editor. Many items are on the Girton Library catalogue.
Library Guides
We have wide range of guides for College members to use
Find out more