Using the College Library
Searching for Books
Searching for Books
There are two key library catalogues you can use to search for books while studying at Cambridge:
1.    Girton Library catalogue (called Heritage) – here you can search Girton Library's book collection, and see if items are available or already on loan. You can access Heritage from the Library pages of the Girton College website, or at dedicated catalogue computers on the ground floor of the Library.
2.    iDiscover – you can use iDiscover to search across the whole University of Cambridge's library collections (including other colleges, Faculty and Departments, and the University Library itself). You'll find ebooks on iDiscover (unlike on Heritage) but also access to relevant journals and databases. Most, but not all, of Girton's library books can be found on iDiscover. If you want guidance on searching on iDiscover, please see our guide to Searching iDiscover. 
For the time being, we advise users to check Girton's holdings on Heritage rather than iDiscover, because only two-thirds of Girton Library's holdings are listed on iDiscover and it does not show availability. If you refine by availability in iDiscover and select the option "Available in the Library", your results may exclude material available in Girton College Library. If in doubt of which library catalogue to use, have a look at this helpful guide. 
Getting started on Heritage (video)
Please watch this short video above about getting started on Heritage. [Please note, there is no audio commentary accompanying the video, information is visual only.]
Alternatively, see the instructions below.
Getting started on Heritage (instructions)
1.     Open up the Library's catalogue, Heritage. Click 'Enter Catalogue'.
2.     Type some search terms in the search bar, and click 'Search' - you should see something like the screenshot below.  (see the 'General Search' and 'Guided and Advanced Searches' headings below for more guidance).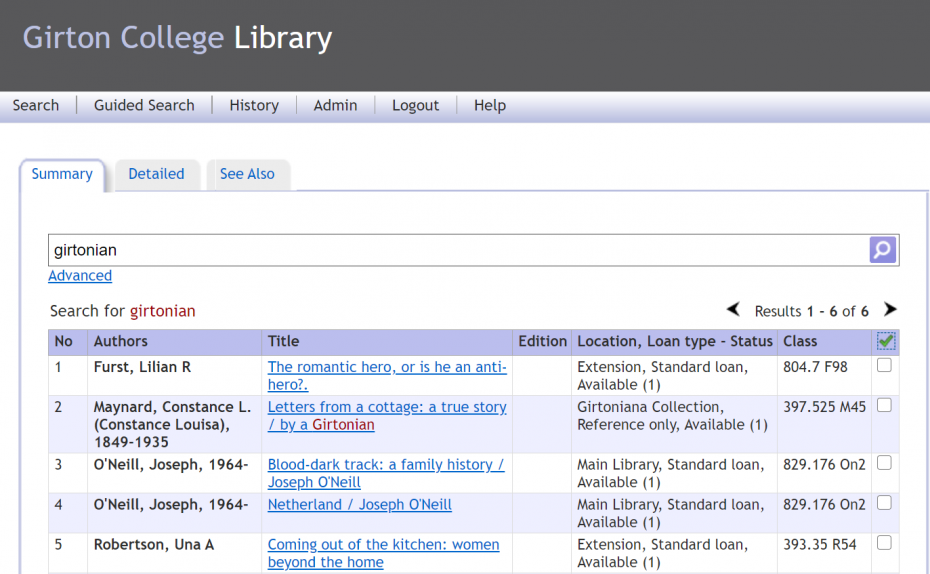 3     When you have a list of results, click on the title of an item to see more detailed information about it.
4.     Make a note of the classmark (Class) and location of the book (highlighted in the red boxes in the screeshot below).  The classmark is the code Library staff use to classify a book by subject - its also what you'll use to find the book on the shelf in the Library, as all books have their classmarks stuck onto their spines. Classmarks are usually made up of a number, normally between three and six digits, followed by a letter or two and a few more numbers. Here are a few examples:
829.176 On2

804.7 F98

442.5 W92

393.35 R54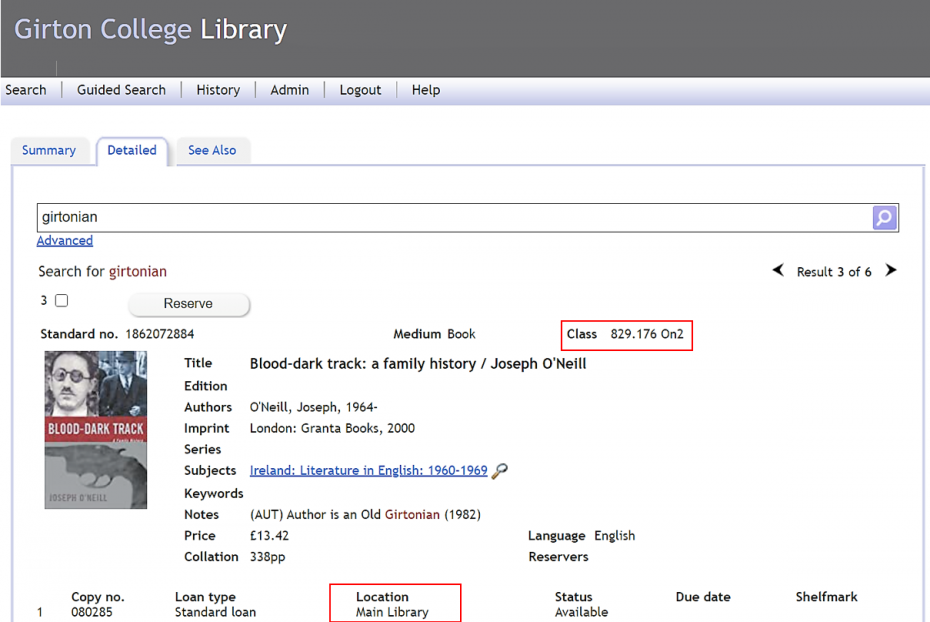 5.     Once you've made a note of the Class and Location of the book, collect the book from the shelf. As always, if you need any help, ask a member of Library staff or email us.
General Search
When you are searching for books on Heritage, you can make your search as broad or as specific as you wish. Search terms can be combined to make your search more precise by specifically including or specifically excluding particular words – this can save you a lot time, and it means you won't have to scroll through loads of less relevant results. To search for a specific work, you might select a word from the author and another from the title and combine them; type them into the search box with a separating term (AND, OR, or AND NOT). For example:
A search using the terms 'shakespeare AND hamlet' will bring up all the editions of Shakespeare's play Hamlet plus all the works about Shakespeare's Hamlet.

A search using the terms 'hamlet AND NOT shakespeare' will bring up books which are about hamlets (in the sense of small villages) or plays and novels by writers other than Shakespeare, for example, William Faulkner.

A search using the terms 'macbeth OR hamlet' will bring up all the editions of either play plus all the works about either play.
Guided and Advanced Searches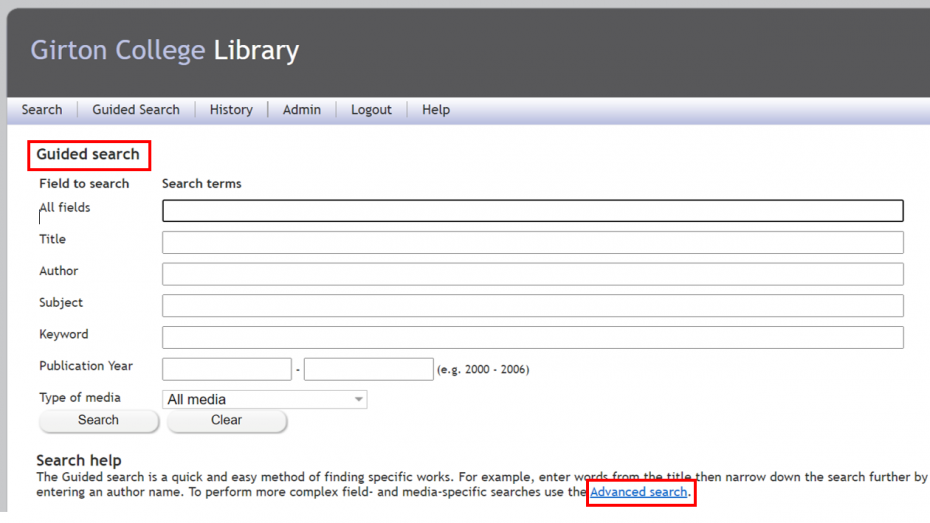 If you want to be a bit more precise with your search, you can click on 'Guided Search' which should always be on the tab at the top of the screen (highlighted in the top red box above). The guided search option allows you to make your search more precise. For example:
You can specify where you want your search terms to appear in the catalogue record, e.g. Shakespeare as the author rather than the subject of a book. This means that only books by Shakespeare will come up in the results, which will save you scrolling through pages of results. 
You can restrict the search to particular types of material, e.g. books, DVDs, etc., using the type of media drop-down list.
The 'Advanced search' option works in a similar way but gives greater flexibility in the possible combinations of search terms and media. Find the 'Advanced search' at the bottom of the 'Guided search' screen (highlighted above in the bottom red box).
Book not in stock?
If you need a specific book and can't find it on Heritage, search iDiscover to find if the item is available somewhere else. You will be able to:
Check availability at your Faculty/Departmental library. 
Check the University Library (this is a legal deposit library so most books published in the UK should be stocked in the UL).
Check availability at other college libraries – some might let you borrow a book of theirs if it can't be found elsewhere, but it is best to get in touch with the library in the first instance to ask. You can find contact details of all the college libraries in the Cambridge University Libraries' directory.
See if there is an eBook available.
Think we should have a book that we don't have?
There are two ways that you can recommend a book:
By filling in the online form.
By filling in a paper form available from the issue desk at the Library.
Please note: the recommended book needs to meet all three of the criteria below in order to be accepted:
The book is on a Tripos reading list
The book is not in stock in the Library (i.e. we don't have a copy of it)
The book is still in print.
We may be able to buy the book and reserve it for you, after contacting your Director of Studies. 

Special collections
We have wonderful special collections here at Girton College, and you are very welcome to use them for your research. Many items can be found on Heritage, the Girton Library catalogue, or you can see a summary of what we have on the Archive pages of the College website. The collection can also be searched via the small card catalogue in the Upper Library -  the cards are arranged alphabetically by author or editor. If you need any help looking for special collections or archive material, email us on library@girton.cam.ac.uk or email the Archivist on archive@girton.cam.ac.uk. 
Help within college
Library staff are always happy to provide support and assistance. You can book an appointment with us or ask us a question via library@girton.cam.ac.uk.
Library Guides
We have wide range of guides for College members to use
Find out more