Mrs Jenny Blackhurst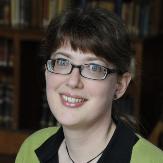 College position(s)
Fellow
Specialising in
Librarian and Fellow for Life & Study Skills
Research themes
As Librarian, Jenny is responsible for running the College Library, including the IT Resources Area and the Special Collections, and is Head of Department for the Library & Archive department.
As Fellow for Life & Study Skills, Jenny coordinates the "Thrive" programme, combining the study skills support provided by the Bye-Fellow for Study Skills with a new series of events supporting more general life/transferable skills. This is a two year pilot project that began in October 2017.  Jenny also convenes the Study Skills Working Group of Education Board.
Other
Jenny is responsible for all the College's Library collections – the Main Library, the Special Collections and the Stanley Library.
Current members of College can ask Jenny for help and advice in the use of electronic resources, such as electronic journals and electronic books, and on all aspects of information searching and the critical evaluation of sources.  One-to-one training is available.
Researchers wishing to make enquiries about the Library's Special Collections should contact Jenny for further information or to arrange a visit – see Archive and Special Collections.
More information about the "Thrive" programme can be found elsewhere on this website and current members of the College can see the full programme on Moodle.
Library & Archive
All you need to know about the Girton College Library and Archive
Discover more