Our staff
Passion and pride in making Girton the best it can be
We have a large team of staff members working across a wide range of departments who are all passionate about Girton and dedicated to ensuring that we are building on our traditions of excellence and welcome in every aspect of College life. 
Porters' Lodge
Our Porters are usually the first point of contact for visitors to the College, but they do so much more than that. They ensure our site is safe and secure for all of the members of our community; they look after our communications and mail, and book taxis and couriers; they help with countless aspects of administration; and for our students, they are a valuable source of information and support in solving all manner of day-to-day problems. Asking a Porter is often an excellent way to begin if you are stuck with a problem!
The Porters' Lodge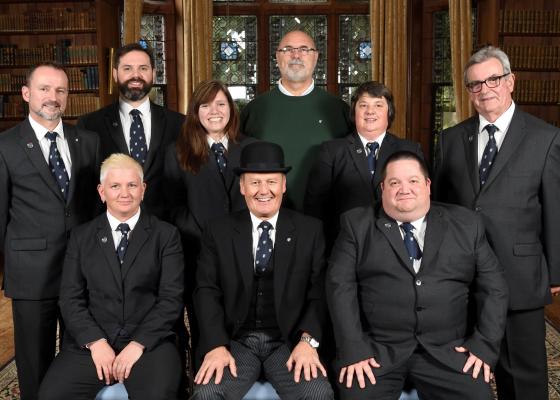 Accommodation
The Accommodation team looks after the administration of all aspects of students' and Fellows' accommodation, and also works closely with the Conference Office with regard to the booking of our larger spaces for functions.


Accommodation at Girton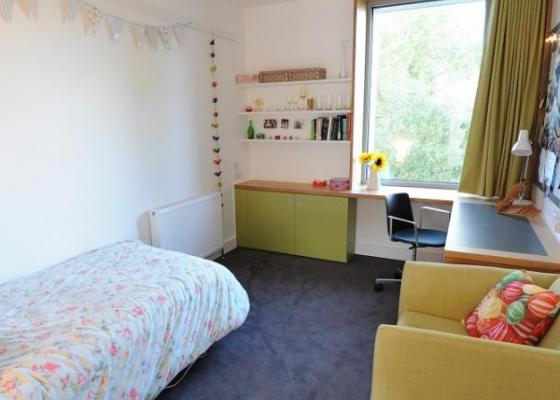 Bursary
The Bursary will usually be most visible to Girton's students when it comes to paying bills. The team are the accounting backbone of the College, managing billing and invoicing, providing assistance to departments in financial planning and budgeting; and delivering management and statutory financial reporting. The team also works closely with the Bursar in managing the overall strategic financial management of the College.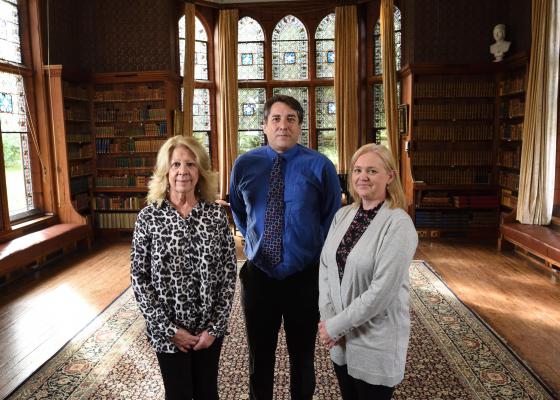 Catering
Our Chefs and Front of House team provide a full range of catering every day, from snacks and coffees in the Social Hub, through to fine dining on formal occasions in Hall, as well as the many other functions and other dining occasions – barbeques, teas, drinks receptions - which are essential to college life. Renowned for their creativity, the team are also able to cater for all dietary needs, including inventive and delicious vegetarian and vegan food, kosher and halal menus.
Dining and Socialising at Girton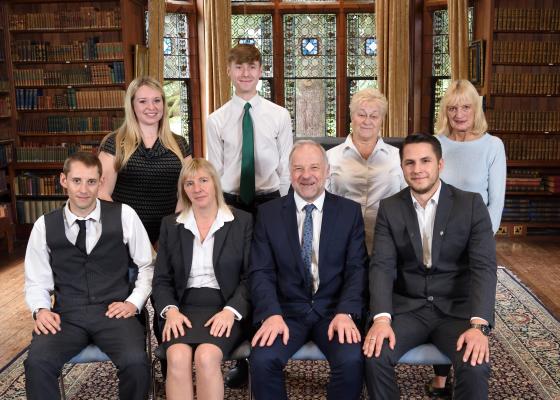 IT Department
The IT Department team are highly skilled IT and information management professionals who maintain the College's network infrastructure, connectivity, systems and hardware. College members are able to contact them at any time in the event of any difficulties with IT.
Computing at Girton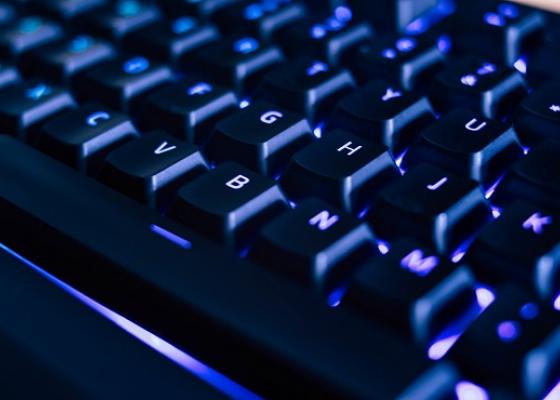 Housekeeping
The Housekeeping team work around the clock to ensure that all spaces in college are clean and well-furnished. Whilst the cleaning of student bedrooms is the responsibility of students, the housekeeping team maintain bathrooms and shared spaces, as well as overseeing the cleanliness and good order of public spaces.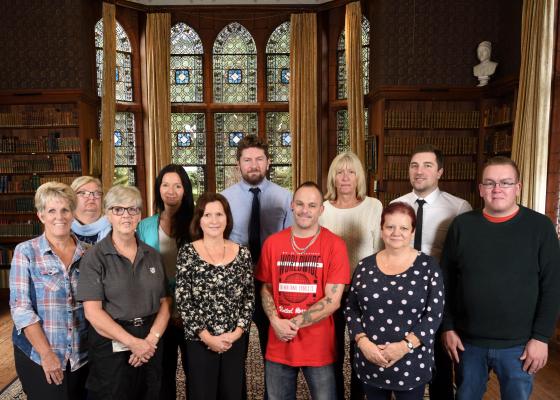 HR
The HR team deals with all aspects of managing employment matters for the College, across staff and fellows. These range from recruitment, through to managing employee relations issues as they arise; and also overseeing the processes for training, developing and managing our people.

Work at Girton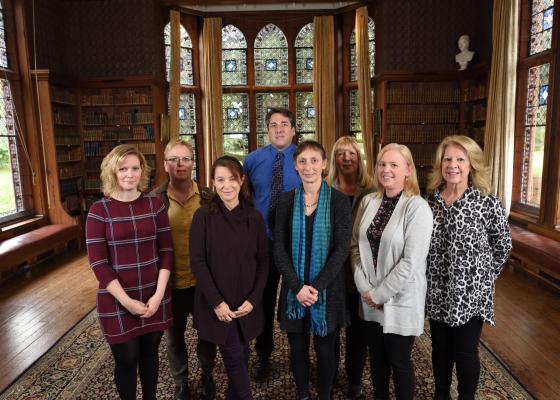 Library and Archive
Girton's library team is made up of professional information specialists, happy to advise on all aspects of information searching and the critical evaluation of sources, whether print or electronic. The Archivist can guide you through using the College Archive, with its fascinating records of Girton's history and the history of women's higher education in general.
Library and Archive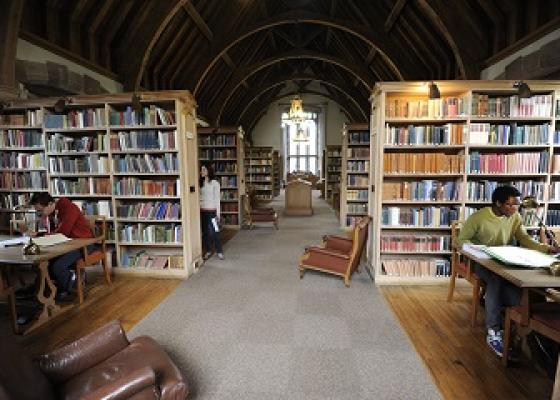 Maintenance
Our large and highly-experienced maintenance team, working closely with the College Surveyor, are responsible for ensuring that Girton's large estate and historic buildings are kept both safe and in excellent condition. We also have a team of Gardeners and Groundskeepers who maintain and enhance the spectacular grounds and flora which are a unique and treasured feature of Girton life.

The maintenance team are very responsive to requests for repairs, and all members of College are actively encouraged to contact maintenance at the earliest opportunity with any issues which require fixing.
College Maintenance Requests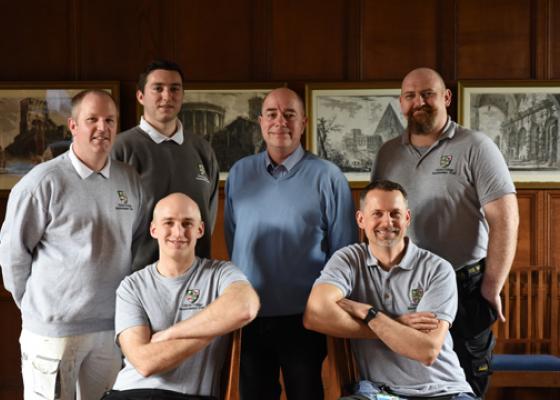 Mistress's Office
The key role of the Mistress's Office is to support the Mistress, as Head of the College, establishing and providing leadership for implementing the College's strategic vision and priorities as well as for the day-to-day operation of the College and College specific events. This office also supports the College's Fellowship in a number of areas. The team includes, the Executive Assistant to the Mistress, Secretary to Council, Communications Officer and the College Office Administrator. The Secretary to Council is responsible for College governance, services the Council, Governing Body and some Committees. The Communications Officer looks after external communication and marketing.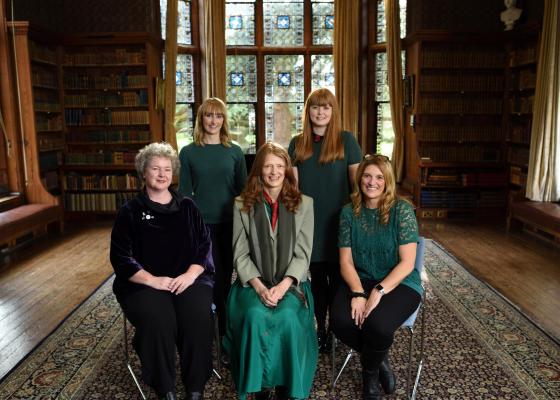 Tutorial & Admissions Office
The Tutorial & Admissions Office is the centre for all student-related administration in College. They manage the admissions process for undergraduate and postgraduate students as well as developing and running the College's outreach and widening participation initiatives. Working closely with Directors of Studies and Tutors, they provide help and advice on a range of academic and pastoral matters from examinations and student finance to student visas and graduation.