I had only been at Reading about a week when I came across a reference to Norah Jolliffe.  It was during one of my first forays into the Ure Museum's archive, and my eye alighted on a half-sheet of University of Reading letterhead paper, with handwritten text that began "The Romano-British Museum was started under the joint direction of Professor Stenton + Professor Ure in 1914…"
By the penultimate sentence of the short text, the Museum history had reached the late 1920s, when, between 1927 and 1934 "the museum was in the charge of Miss N. C. Jolliffe, lecturer in the Department of Classics." It's now a well-established part of the Ure Museum's history that its first curator was a woman – Annie Ure. But here was evidence of another female curator at Reading – and one of a different (and as it turns out not unrelated) museum.
I was quite excited. I had no idea who "Miss N. C. Jolliffe" was at that point, but searching for her online quickly revealed that her personal papers are now held by Girton College, Cambridge – her alma mater and her final employer.
In May, I visited Girton and spend a time looking through some of Norah Jolliffe's papers.  Among them is a file of testimonial letters written by various Reading colleagues, including Professor of Classics Percy Ure and Professor of History Frank Stenton, and her teachers from alma maters Cheltenham Ladies College and Girton (Janet Ruth Bacon, Girton's lecturer in Classics) in support of Jolliffe's application for Classics Lecturer positions at Royal Holloway and St Hugh's College Oxford.[1]
The letters are nothing less than dazzling in explaining and praising Norah Jolliffe's qualifications, research interests, abilities and character.  On leaving Cheltenham Ladies College Jolliffe had entered Girton to study Classics, finishing her Tripos with first-class honours in both parts in 1918 (this was before Cambridge granted women degrees and thus full membership of the university). She had a special interest in archaeology, and studied for the University Diploma in Archaeology between 1921 and 1922. All this she completed to brilliant standard in a third less time than the norm.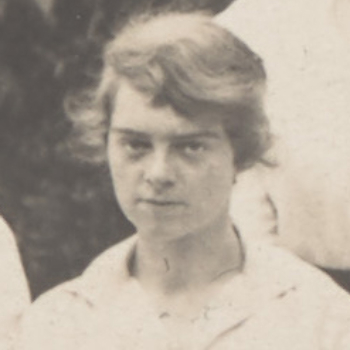 Accolades and diploma in hand, she went to Italy. As a Girton-funded Gilchrist student at the prestigious British School in Rome, she worked closely with the School's Assistant Director, Eugenie Sellers Strong (who had completed her studies at Girton forty years before). One of the highlights of the collection of Jolliffe's papers at Girton (for me anyway) is her ID card from her time at Rome, complete with a photograph of her attached to the rather elaborately decorated card giving her access to museums and galleries in the city.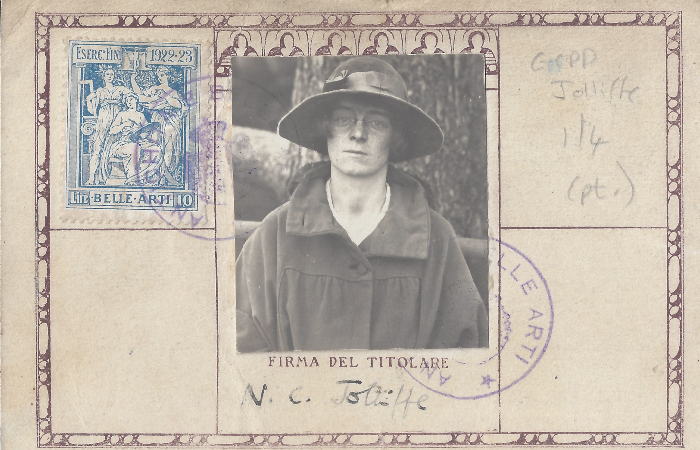 One product of her time spent in Rome was an article co-authored with Strong on a group of unusual pre-Christian Roman stuccoes; it was published in the Journal of Hellenic Studies in 1924. The stuccoes had only been discovered a few years before during the First World War, when a railway line being constructed caved in, revealing a shaft leading to the then-unknown basilica and its intriguing art. It was a site of religious practice built, Sellers and Jolliffe stressed, in exactly the same manner as early Christian basilicas. It had a significant impact on Jolliffe's research interests.
Norah Jolliffe came to Reading initially as a temporary lecturer in Classics in 1926. She was replacing Vivian Wakefield (later Vivian Wade-Gery) in the role as Wakefield had been granted a leave of absence for research. It was Percy Ure's wish to have in the Department of Classics a Research Fellow in Roman Archaeology, and Jolliffe fit the bill.[2]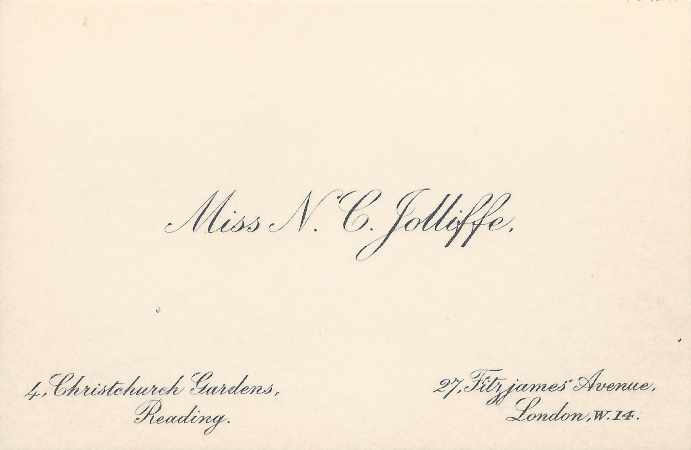 During her time at Reading, she continued her research into religious life, focusing particularly on Romano-British religion and "the religious cults of Ancient Britain" which Percy Ure noted in his testimonial. Between 1930 and 1933, she took part in excavations at Colchester (Camulodunum), under the direction of Christopher Hawkes from the British Museum and Mark Reginald Hull from the Colchester and Essex Museum (Colchester Castle Museum).  By 1930 a temple to the god Mithras was uncovered at Colchester, giving Jolliffe access to another intriguing religious space. Her special interest in Romano-British religion led eventually to a publication in the Archaeological Journal on the goddess Brigantia.
Alongside her regular teaching duties, she curated the Romano-British Museum at the newly-created University of Reading. I am currently in the early stages of researching the history of this Museum but in his report to the Faculty for the 1930/31 session Percy Ure recorded that Jolliffe had "spent a considerable time in cleaning and studying the Romano-British pottery" it held.[3]  Frank Stenton, jointly responsible with Percy Ure for managing the "Romano-British Museum" declared in his testimonial letter that her curatorial role enabled her to become "familiar with a considerable collection of materials covering the whole of this field, and illustrat[ing] the transition from Roman to Anglo-Saxon England."[4]
Alongside this she was involved in University life to a dizzying degree; in his testimonial Reading's Dean of the Faculty of Letters William de Burgh gave an outline of what she did beyond lecturing, excavating and curating: "Senior Steward of our Staff Common Room, on the Committee of the Association of University Teachers, and Secretary of the branch of the Federation of University Women.  …She has also shared in literary and other activities of students, and is at the present time the chief officer of our University Literary and Dramatic Society, the Gild of the Red Rose, and in that capacity is organising dramatic and other kindred activities among the students."[5]
Jolliffe accepted the post of Classical Lecturer at Royal Holloway in 1934, and moved from there two years later back to Girton, where she remained for the rest of her life.  There are several photographs in her papers held at Girton showing her standing in front of groups of students, eager to learn.
As my research into Jolliffe and her role at Reading continues, I know there will be more to say about her and her place in the history of archaeology and archaeological collections in Britain. The best, I hope, is yet to come.
There is a temporary display at the Ure Museum, 'Hidden Women in the Archive: Collectors, Curators and Cataloguers', which features Norah Jolliffe, alongside Annie (Hunt) Ure, Hilda (Urlin) Petrie, Ellen (Exall) Barry, Gertrude (Hill) Hurry, Meta Williams, Julia Katherine (Wickes) Steele, Anne Mary Wickes, Henrietta Lawes, and Nora (Kershaw) Chadwick. The display will be on until 10 September 2019.
Dr Amara Thornton
Dr Amara Thornton's research centres on the history of archaeology in the late 19th and early 20th centuries. Her first book Archaeologists in Print: Publishing for the People (UCL Press, 2018) is a history of popular publishing in archaeology. She has been Research Officer at the Ure Museum since February 2019.  She regularly blogs on her work at the Ure at https://research.reading.ac.uk/curiosi/ure-routes/.
References:
Hawkes, C. F. C. 1947. Camulodunum: first report on the excavations at Colchester, 1930-39. Oxford: Society of Antiquaries.
Jolliffe, N. C. 1941. Dea Brigantia. Archaeological Journal 98 (1): 36-51.
Report to the Faculty 1930/31. Ure Family archive.
Strong, E. and Jolliffe, N. 1924. The Stuccoes of the Underground Basilica near the Porta Maggiore. Journal of Hellenic Studies 44 (1): 65-111.
Footnotes:
[1] GCPP Jolliffe 1/1.
[2] University of Reading Ann Report 1926/27; 1927/28.
[3] Report of the Department of Classics 1930-1931. Ure family archive.
[4] GCPP Jolliffe 1/1.
[5] GCPP Jolliffe 1/1.