I was once asked, "What is a 'Porter' and what do they actually do?", a great question.  After a lot of thought all I could say was "many different things to lots of people". Postmen to Detectives, when post is not quite addressed correctly; Receptionists, First Aiders, and site Security staff. We supply a cup of tea and chat when necessary, are the 'bad guys' who ask you to keep the noise down or close the bar just as you start to enjoy yourselves. We're also the 'good guys' that help you get back into your room, holders of lost property, Traffic Wardens, Waste Management, someone for your family members to call to ask you to get in touch with them, as you appear to have forgotten them. I could go on and on.
I asked a few Porters what their favourite part of the job was. All said meeting people and being 'Front of House' for College. We are very lucky to be able to see and talk to everyone. Our 'customers' range from prospective applicants to current students and Alumni (who love to share old stories and secrets, or just want to see where they used to live!). Proud parents, family of the Graduands, Fellows, neighbours, tourists and of course, all of the wonderful delivery drivers! We see students in the middle of the night during exams, when they need just a friendly face and a cup of tea. Then we see them when the results are in and it's time for a celebration. We have seen student's come back to the place they met their partners and sometimes where they got married. We see the best and the not so best.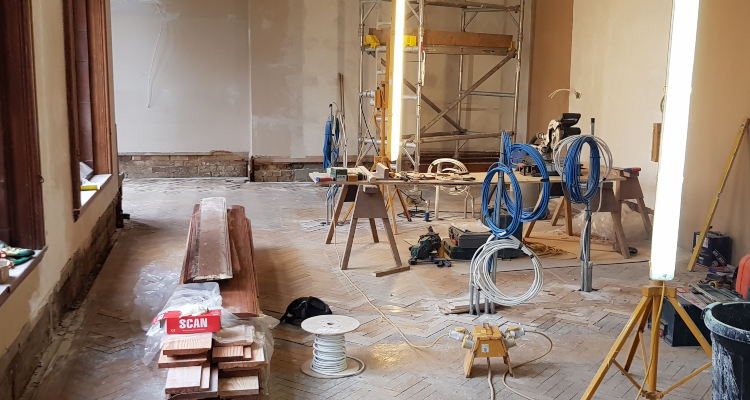 We have 22 people that make up the 'Portering' staff and others we can call in, on a casual basis. The Porters have 2 bases of work: The Lodge (reception) at Girton College, currently being refurbished and if all goes to plan we will be moving back in just after Christmas; and The Lodge at Swirles Court, Eddington. Both Lodges are manned 24-hours, 7 days a week, to deal with all sorts of issues, problems and situations. We work closely with other Departments and are essential to the smooth running of the College as whole. We are the first port of call for all things 24-hours a day. We can call upon a Duty Tutor or the Senior Tutor if there is a need for student support, or call in the Maintenance Department for buildings issues. We patrol both sites, keeping everything secure and safe; we're all trained First Aiders, working closely with Tutors and Nurses dealing with medical problem or injuries, if appropriate.
In addition to certain mandatory training, Porters attend a full training day each year. We cover a variety of issues that we believe are important for serving our 'customers'.  Every year we split up the Lodge into 2 groups and have a day's training per group. This helps us all develop and provide better service and knowledge to everyone we meet.
One of the busiest but most enjoyable periods in our role, is working the bi-annual College Spring Ball. In the build up we work closely with the Ball Committee, Cambridge Fire and Rescue, logistics teams, bands, external security companies, and general service providers of food, drinks, discos and rides. We also assist by receiving party paraphernalia, food trucks (but don't get to eat anything – honest!), and of course providing the majority of the security for the event. The Committee look to us as having the experience of working on previous Balls and we are able to offer all the help we can, from the Ball announcement Formal, to the clean up the morning after. If there's a meeting or gathering concerning the Ball, Lodge staff will be there! Everyone involved works so hard in the build-up, but it really is worth it on the night, knowing that it will be a great, safe night.
Porters work closely with all of the other Departments in College, to ensure that the core activities of Girton and the other arms of the business, work in a cohesive and well-established way. Without the clear sense of being an integral part of the 'Girton family', the Porters role would be far harder and we wouldn't be able to help achieve our collective goals. We constantly strive to improve our performance, give a better service and achieve the success that's synonymous with being part of 'Team Girton'.