150 years ago this month, in October 1873, Girton College reached a very significant milestone in its young history. For the first time, students arriving for the new term were welcomed to Girton's now historic main site. On, or close to, Saturday 18 October 1873, around 22 women moved into the first building to open here – what is now called Old Wing.
Girton's pathbreaking foundation in 1869 rightly deserves great celebration, but the move into Old Wing was also an enormous achievement. It had been far from inevitable. Building Old Wing and preparing it for students took many months of planning, hard work, dedicated fundraising, and above all the generosity of Girton's early supporters.
Choosing Girton
The College first opened in 1869 in Benslow House, Hitchin. After some debate, by spring 1871 it had been agreed that a permanent home should be commissioned and built a 'short distance' from Cambridge. Several locations were considered. However, by July 1871 news had arrived of some interesting plots of land close to Girton village. Overtures were first made to a Miss Cotton, but she declined to sell her land 'for the purpose required'. Mr John Dennis, owner of 16 neighbouring acres was more amenable and his land was purchased early in 1872 for £1,900.
The masterplan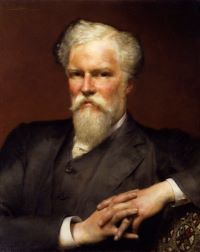 Even before the Girton land was chosen, discussions about a first new college building had begun with Emily Davies' preferred architect for her College project, Alfred Waterhouse. Waterhouse began making drawings for a college building in summer 1871. The final plans, agreed in spring 1872, set out an 'L'-shaped first building, with three floors. It included rooms for up to 21 students, sets of rooms for the Mistress and two resident lecturers, and two lecture rooms. A Dining Hall (now Old Hall), kitchen, and ground-floor service rooms were connected to rooms assigned to 'servant accommodation' and other domestic functions above.
This, however, was not the limit of Girton's vision in 1872. These plans included the first two College extensions, which would be added between 1876 and 1879 – the western end of Old Wing, and then Hospital Wing: extra Girton corridors, already foreseen even before construction on Old Wing was begun!
By mid-April 1872, the plans for Old Wing had been put out to tender, and a builder chosen. Ground was broken that autumn. It is remarkable that only 12 months later the first students would move in!