Events
A Post-Easter Organ Recital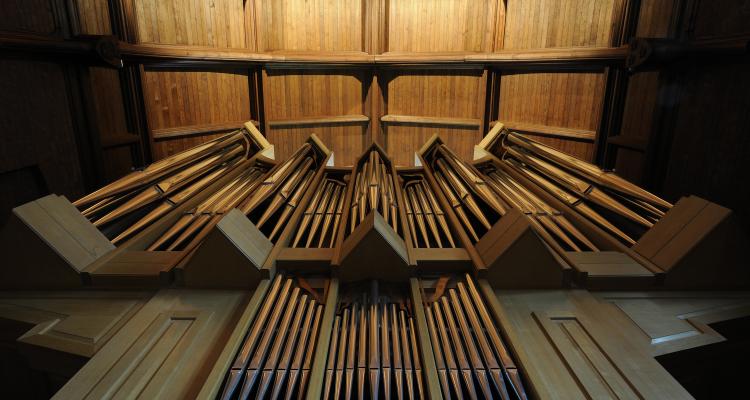 Tom Williamson, Felix Elliott and Emily Nott
---
Felix Mendelssohn (1809–1847) – Organ Sonata No. 1 in F Minor (TW)
Allegro – Adagio – Andante recitativo – Allegro assai vivace
Mendelssohn's Organ Sonatas are a staple of the organ literature. They combine significant technical demands and emotional extremes with strong pianistic elements and an improvisational style that had made the composer famous across Europe. Commissioned as a 'set of voluntaries', the Sonatas are in fact each a collection of diverse pieces, several of which make use of Lutheran chorales. Mendelssohn leaves the registration entirely up to individual organists, encouraging them to work with their instrument's distinctive sound qualities.
Sonata No. 1 opens with full, dramatic F minor chords, and the movement plays throughout with contrasts – assertive and lyrical, complex and simple, full organ and softer registrations. The 'Adagio', built round a simple musical dialogue, provides a moment of calm. The 'Andante' plays with contrasts again but, whereas the 'Allegro' is dominated by full organ, here the effect is reversed. Finally, the seriousness that began the Sonata is replaced, in the finale, by joy – a magnificent but perhaps unusually executed end.
Florence Price (1887–1953) – Retrospection (FE)
Bridging European and American styles, Price's extensive compositional output weaves the sounds of her community – spirituals and blues – with traditional Romantic colours. Some of this perhaps reflects her dislocation, as part of the Great Migration, from her hometown to Chicago and the necessary bridge between tradition and modernisation that came with it. She was the first African-American woman to be recognised as a symphonic composer; however, her music has largely remained unperformed. In 2009, a substantial collection of her works was discovered, and as a result she has recently begun to attract attention.
Retrospection, originally titled An Elf on a Moonbeam, and paired with a second work The Hour Glass, originally titled Sandman, delves into a positive reflection on time past. 
Felix Mendelssohn (1809–1847) – Organ Sonata No. 3 in A Major (EN)
Con moto maestoso – Andante tranquillo
Sonata No. 3's appropriately majestic opening was originally written for the wedding of Mendelssohn's sister Fanny in 1829, before being reused here. This march leads into two wonderful fugues which both have the chorale 'Aus tiefer Not schrei ich zu dir' ('Out of the depths have I called to you') as their centrepieces, building up in swirling polyphony to a marvellous climax. This complexity settles back to a reprise of the opening's grand homophony. The second movement is a charming and gentle minuet-like piece that shares many characteristics with Mendelssohn's 'Songs without Words'.
Healey Willan (1880–1968) – Chorale Prelude on a Theme by Melchior Vulpius (TW)
Willan was primarily a church musician, born and trained in England before emigrating in 1913 to Canada, where he acquired the nickname 'Dean of Canadian composers'. Inspired predominantly by the German choral tradition, and keen to revive plainsong, Willan wrote numerous choral and organ works. However, he is perhaps best-known for his Introduction, Passacaglia and Fugue, which takes its lead from Max Reger.
This Chorale Prelude is the fourth of a set of six written in 1950, all of which draw inspiration from German chorales of the sixteenth and seventeenth centuries. Here, Vulpius's 'Gelobt sei Gott' is set against a military-sounding trumpet accompaniment, with the chorale, in the tenor voice, heard on a reed stop.
Emma Lou Diemer (b. 1927) – Fiesta (FE)
Diemer's compositional style encompasses a wide range of approaches, from traditional tonality to atonality and electronically influenced music. Yet most of her works reflect the philosophy of Gebrauchs­musik, where music is written for a specific context or occasion; it also reflects Diemer's career as educator. Her music has had much success in America.
Fiesta mirrors its title perfectly: it has a lively, rhythmic character and conjures up a varied and predominantly playful atmosphere.
---
Biographies:
Emily is currently in her first year studying Classics at Girton. She started playing the organ in senior school, and particularly enjoys accompanying the Chapel Choir and exploring new choral repertoire. She is now taught by Anne Page, having previously received lessons from Katherine Dienes-Williams. While at school, as well as playing for Evensongs at Guildford and Winchester Cathedrals, she also had the opportunity of travelling to Ljubljana and to Prague and playing at the cathedrals there. As a counterpoint to organ playing, she also loved being part of the pit orchestras on keyboard for various school musicals, including Grease, Sister Act and Legally Blonde. In her free time, she likes reading, cooking, quizzing and walking.
Felix says 'I started piano lessons when I was 7 or 8, being inspired by my older sister Izzy's playing. I had the same piano teacher, Margaret Turner, right through from my earliest key-smashing to my last few lessons around Christmas 2019, working towards my DipABRSM. I owe so much of my love of music to her and am very grateful for the direction and inspiration she has consistently offered me for over 10 years. I have been taught organ by Dr Juliana Ainscough at my secondary school, and more recently by Anne Page here at Girton, both of whom have offered me substantial guidance for my improvement as a musician, which I am very appreciative of. I am currently in my first year pursuing undergraduate music studies at Girton College, where modules on ethnomusicology, ecomusicology, sound studies and the philosophy of music have especially interested me so far.'
Tom is a second-year undergraduate reading Physical Natural Sciences (Physics & Materials) at Girton. He is currently being taught by Robin Walker, and has particularly enjoyed playing and singing with the choir for the last year and a half, even when virtual, as well as performing in a number of Girton concerts, either as a keyboard player or on the bassoon. He's also enjoyed composing and mixing recordings for the choir, and hopes to do more of both soon. Outside of Cambridge, Tom spends his time hiking, baking and volunteering on the tech team of a tutoring charity. 
The Organs:
Emily is playing on the organ at Holy Trinity Church in Guildford. It is a 3-manual 36-stop electro-pneumatic organ built by by the Worcester-based Nicholson & Co. An organ has stood on the site from around 1780, with multiple rebuilds and modernisations having occurred since. The latest major change, undertaken by Nicholson & Co, was a thorough restoration and rebuilding in 1997, with renewing of the action and tonal alterations made 'that acknowledge the church's classical ambience'. More information can be found at: https://tinyurl.com/HolyTrinityGuildfordOrgan
Felix is playing on the organ at Girton College chapel, a 4-manual 26-stop mechanical-action organ constructed in 2002 by the Swiss firm, St-Martin. It is built in the French Classical tradition, with Grand-Orgue, Positif, Récit (Expressif) and Solo manuals. Its versatility in performing across the organ repertoire, and its rich and complementary tones, have led it to be known as one of the best instruments in Cambridge. More details and a specification can be found on the college website or (a short history in French) at https://tinyurl.com/GirtonCollegeCambridgeOrgan
Tom is playing on the organ in the chapel at Wellington College, Berkshire. It is a 3-manual 40-stop Harrison & Harrison, originally built in 1922, before an overhaul in 1981 converted the action from pneumatic to electro-pneumatic. It was most recently overhauled in 2016, requiring a full dismantling and restoration of the wind system, releathering of the actions and reconstruction of the soundboards. A full specification can be found at: https://tinyurl.com/WellingtonCollegeOrgan
Information is taken from the websites linked, or from the National Pipe Organ Register (https://www.npor.org.uk/)