Reserving Items
Using the College Library
What do we mean by "reserving"?
If an item that you need is on loan to someone else, you can reserve it. When the item is returned to the Library, we will put it to one side for you and you will receive an email inviting you to collect it. If you need the item before the date it is due to be brought back, please tell us so that we can ask the current borrower to return it as soon as possible.
PIN:
To reserve items online you will need a Library PIN. If you do not know your PIN please ask a member of library staff or email us at library@girton.cam.ac.uk.
Reserving items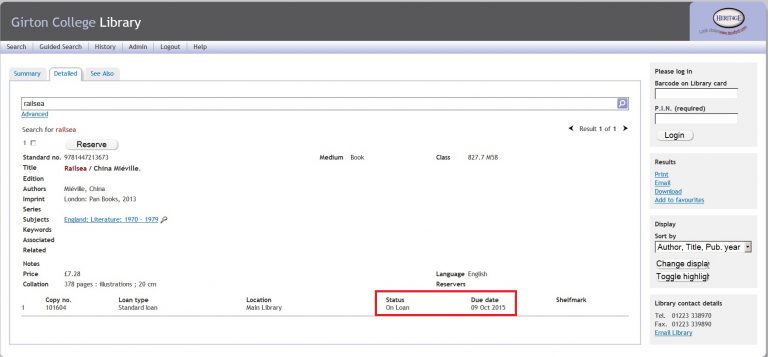 Log into your account using your barcode (5 digit number beginning with 'V' on the back of your university card) and PIN. Then click on the Reserve button.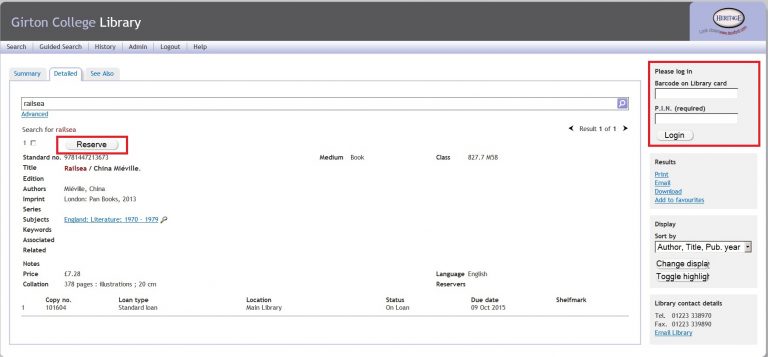 Once you have clicked reserve, a confirmation note will appear.
Alternatively, complete a book reservation form (available at the issue desk)
Urgent reservations
If you need an item sooner than the due date, please complete a book reservation form and indicate that you need the item urgently. Library staff will then recall it for you – the person who has the item will be asked to bring it back before the stamped return date.
If an item is not on loan but not on the shelves
If you cannot find the item on the shelves or on a desk in the Library, please speak to a member of Library staff. We will try and locate the item for you.
Check which items you have reserved or already have on loan
Login using the box on the right-hand side of the search. You will be able to see which books you have on loan, renew books, see a list of any reservations and cancel reservations.
Library Guides
We have wide range of guides for College members to use
Find out more