Using Electronic Resources
Finding and using ebooks
As well as using printed books, many popular titles and books recommended on reading lists are available as ebooks for a range of subjects. Members of Cambridge University have access to 1.75 million + ebooks from a wide variety of publishers and platforms from anywhere with an internet connection, 24 hours a day, 7 days a week.
Additional features on ebook platforms such as searching the text for particular phrases and adding bookmarks and notes are available and can save you a lot of time.
Please have a good look at the ebooks LibGuide (see the screenshot below) – it has lots of very helpful information including lists of ebook platforms, as well as guides about accessing, referencing and using ebooks.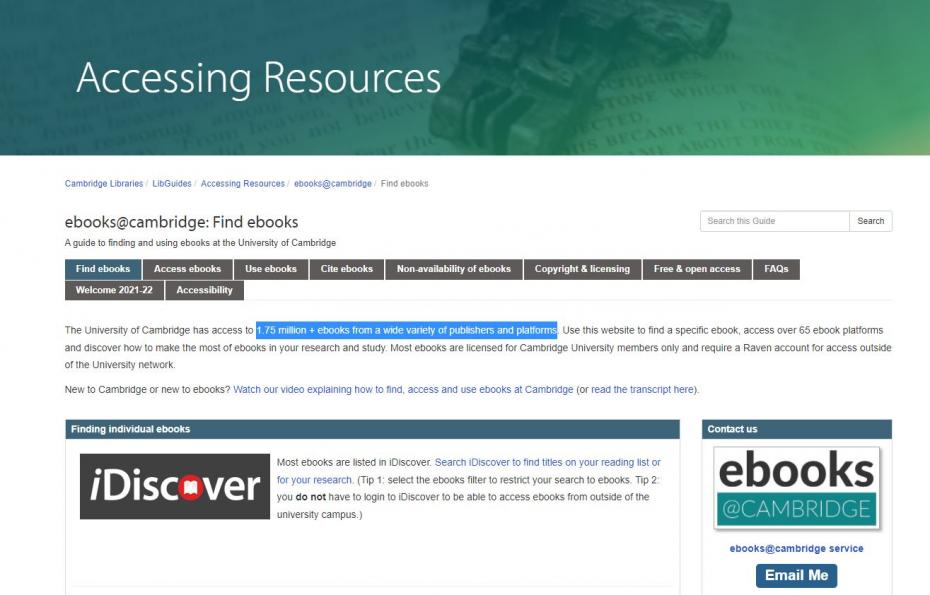 Finding ebooks
Most ebooks can be found and accessed using iDiscover, although check out your subject LibGuide too, as it might give you some suggestions about where to start. Please note: you won't find any ebooks on Heritage, the Girton College Library Catalogue – it only lists physical items, like books.
Watch the video below, which shows you how to find, access, and use ebooks at Cambridge. A transcript of the video is also available.
iDiscover also have their own guide for finding books and ebooks, which you also might find useful.
Using an ebook
Different ebook platforms (such as EBSCOhost and Springer, for example) work in slightly different ways but the principles are the same. The ebook LibGuide has a handy section called 'Platform hits and tips', which describes the major ebook platforms and their different functionalities. Some platforms might be easier to navigate than others, for instance. 
Electronic legal deposit
Something that you might come across when trying to access ebooks on iDiscover is the term 'Electronic legal deposit' (see image below). Electronic legal deposit (also known as e-deposit or eLD) refers to the UK published electronic material which is deposited to legal deposit libraries (the University Library is one of these legal deposit libraries).

Access to ebooks that show this message on iDiscover is restricted: it might mean that:
you can only access the ebook by using a particular computer in the University Library or certain Faculty or Departmental Libraries, often described as 'affiliated libraries'

only one person can access the ebook at a time.

you can only print excerpts from the ebook at the University Library.
Please note that Girton College Library is not an 'affiliated library', so you won't be able to access an electronic legal deposit ebook on one of our PCs. More information about accessing electronic legal deposit items – including how to book a designated computer to view an ebook, and why access is so restricted – can be found on the Electronic legal deposit LibGuide.
You can also always email the ebooks team for help and advice at ebooks@lib.cam.ac.uk.
Open Access
Open Access ebooks are freely available texts. There are numerous platforms where you can search for open access books and some are listed on the ebooks LibGuide. Examples include:
Online Repositories are also useful places to access material. Repositories hold the research output of members of Universities or organisations, such as theses and dissertations. Cambridge University's online repository is called Apollo. You can search Apollo separately, but its resources are also listed on iDiscover. To find and search other repositories use:
Copyright
There are copyright regulations you need to be aware of when using ebooks. For instance, there are restrictions as to how much you can print or download from an ebook. For further information, check the ebooks LibGuide.
Referencing
The ebooks LibGuide has excellent information about how to reference or cite ebooks in your work, but the website Cite them Right is also worth a look for all your referencing needs.
Help within College
Library staff are always happy to provide support and assistance. You can book an appointment with us or ask a question via library@girton.cam.ac.uk.
Library Guides
We have wide range of guides for College members to use
Find out more