Annual Fund Appeals
Making a difference to our students
The Annual Fund supports all aspects of College life by providing the flexibility needed to fund the areas of greatest need both ongoing and those that arise throughout the year. By making an unrestricted gift to Girton this year you will help to support projects such as:
Increasing support for students struggling with the cost of living at Cambridge

Talented students with the ability to tackle the rigours of a Cambridge degree should be able to concentrate on their studies at Girton without worrying about financial barriers. However some students, particularly those from low income backgrounds, find themselves struggling to get by or facing unexpected financial emergencies. This has been compounded recently by the cost of living crisis. By donating to the Annual Fund you will help to increase the College's ability to support students who are struggling financially, enabling them to focus on their studies and make the most of all that Girton and Cambridge have to offer.
 
Expanding support for student welfare

Girton is a leader among Cambridge Colleges in its approach to student welfare by providing a proactive and supportive environment for our students. The College recently appointed a Head of Welfare and Wellbeing as well as a Financial Welfare Officer for this purpose. However we want to offer further support to our students to improve their physical and mental health by increasing the nursing provision from one full time and one part time nurse to two full time nurses, making it easier for our students to get appointments quickly in term time. By donating to the Annual Fund you will help Girton expand the support for student welfare and ensure that our students can access the specialist services they need to thrive at Cambridge and realise their full potential.
 
Supporting an all-round education

Music, Sport, the Arts, learning study and business skills, and other College Societies are a crucial part of life at Girton and the ability to take part in these activities should not be limited to those that can afford them. By donating to the Annual Fund you will help us ensure that the wider aspects of College life remain open to all, regardless of financial circumstances.
 
Improving facilities in the library

In the next year Girton's library is looking to create new spaces to improve study areas for our increasing number of students. By donating to the Annual Fund you will help improve library facilities including the addition of acoustic booths which will be used for both studying and meetings.
 
Developing the sensory garden

The sensory garden was designed in 2022 as one of our Green Girton initiatives with a focus on both sustainability and accessibility. By donating to the Annual Fund you will be supporting Green Girton by helping to complete this innovative project.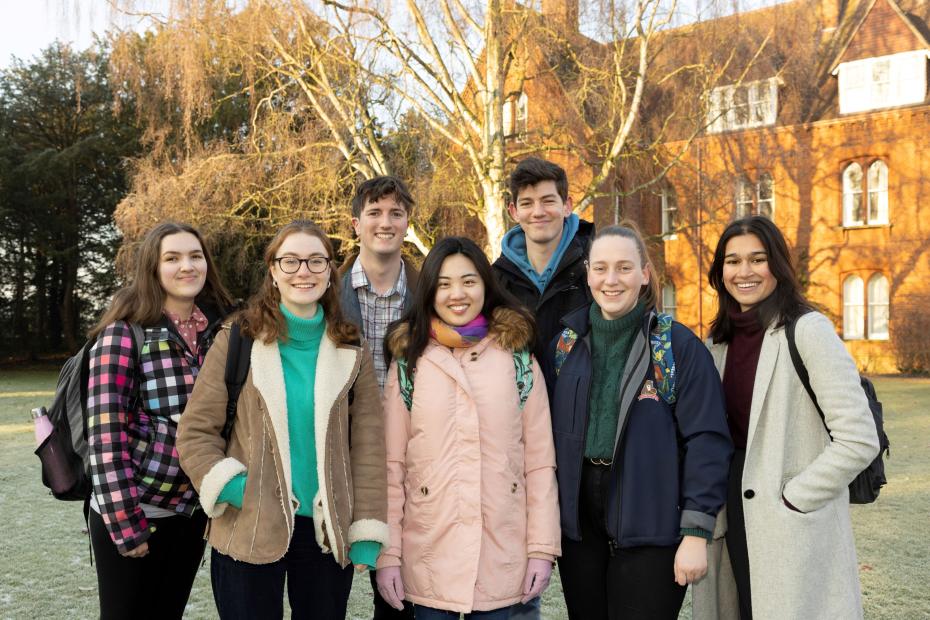 Thank you for supporting our 2023 Telethon!
Our annual Telethon ran from 21st March to 6th April 2023. A team of 15 student callers spoke to 520 Girtonians across 30 countries to reconnect, network and raise funds for our student support initiatives. Thanks to the generosity of our alumni and supporters this Telethon raised over £180,000!
Gifts made as a part of the Telethon have funded 4 student support grants and an Emily Davies Bursary in perpetuity allowing Girton to help more students in need. We are grateful to everyone who took part in this year's campaign.
Giving Day 2023
On 9th-10th October we are holding our 2023 Giving Day. During our annual Giving Day our global Girton community comes together to celebrate everything that makes our College special and makes a real difference to our students both now and in the future. Over the course of 36 hours there are lots of ways for you to get involved. We want to encourage you to take part in challenges or events, share posts on social media or make a gift to the College. In the Giving Day your gift can generate an even bigger impact as extra funding will be unlocked for the benefit of our students when we complete challenges. Our fundraising focus is on supporting our students – especially those facing financial hardship - through The Annual Fund.
Girton stories
Lara Parizotto
Human, Social, and Political Sciences
The bursaries I have received from Girton have been really helpful in keeping me focused on my degree and not worrying as much about financial stress. They have assured me that I will be able to pay for my living costs for the whole academic year. As someone who worked on the Telethon Campaign I am really appreciative of these bursaries and how much alumni donors care about the College and the students who are here. Thank you so much for your contribution to Girton
Give to Girton
There are many ways you can donate to Girton.
Find out more