Annual Fund Appeals
Making a difference to our students
Inspiring students and giving them the freedom to turn their dreams into reality
The Annual Fund is made up of gifts of all sizes and frequency from alumni and friends who want to provide opportunities to those students who need them the most.
Thanks to your generosity, the Annual Fund supports students by raising funds to help them through unexpected hardships, for bursaries to cover their living costs, for scholarships and other projects, such as travel and study materials. The Annual Fund enshrines our commitment to widening opportunities for those from less advantaged backgrounds and enhancing their overall experience and wellbeing at university.
In this uncertain world, we need to ensure that this generation of students are given the freedom to discover their dreams and the ability and confidence to turn them into reality. We are extremely grateful for your generosity in helping to make that possible.
"Thank you to any alumni who have donated previously or continue to donate. The money really goes to help students have a more fulfilling and enjoyable experience. The donations help disadvantaged students get fully involved and help maintain the mental health of many"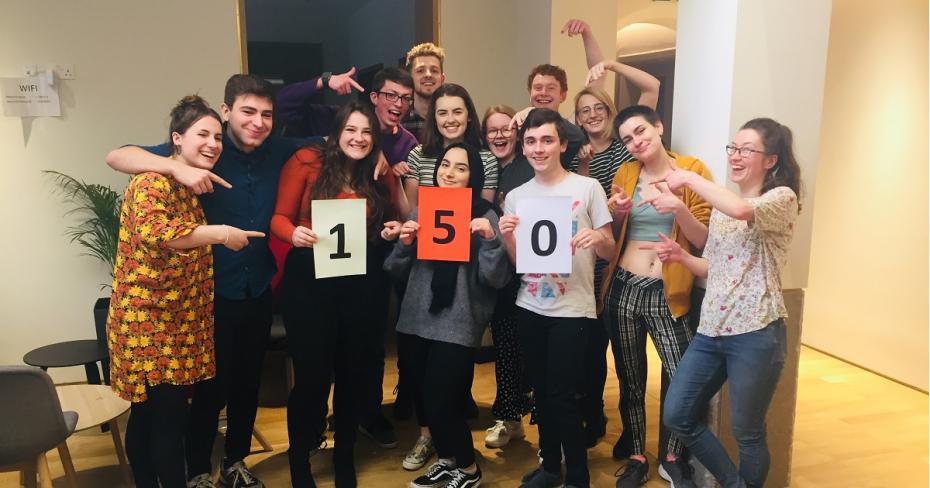 In our 150th year, your support helped more students than ever before!
In 2019 we asked you to help us celebrate our 150th anniversary by supporting our future pioneers. Your response was overwhelmingly generous. In our first ever Giving Week, the global Girton community came together to change the lives of students – our future Girton Pioneers – and drive on the great educational adventure that this College represents. Your generosity helped make this the most successful Giving Week in Oxbridge, thank you!
We had hoped that 250 donors would support the Giving Week but were stunned that over 550 supporters joined in the celebrations and raised over £150k (a serendipitous number!) to assist students in financial need.
The support given during our Giving Week to our student hardship and wellbeing fund means that we are able to award eight more grants each year, in perpetuity, to those who experience unexpected financial hardship during their course. Such awards offer a lifeline of support to students in need, particularly this year where our students have, like so many of us, had their lives changed by the impact of COVID-19. 
But that is not all. Despite the fact that we were unable to run the 2020 Telethon, your generosity means that we have now completed the endowment of over 23 undergraduate bursaries and two postgraduate scholarships. 
More of our alumni have given than ever before. Words cannot express how grateful we are for this support, particularly during this most difficult year. Thank you. 
Help us to provide certainty in these uncertain times
The impact of COVID-19 on our students has been considerable. As our students return to College for Michaelmas Term, 2020, we are working to offer them as many opportunities and as varied a social and intellectual experience as it is safe to do so. Many will face increased financial hardship on top of the uncertainty that our new Freshers will have faced surrounding their A-level results. To help all of us at College do all that we can to support our students, we need your help. Thank you from everyone at Girton.
Girton stories
Lara Parizotto
Human, Social, and Political Sciences
The bursaries I have received from Girton have been really helpful in keeping me focused on my degree and not worrying as much about financial stress. They have assured me that I will be able to pay for my living costs for the whole academic year. As someone who worked on the Telethon Campaign I am really appreciative of these bursaries and how much alumni donors care about the College and the students who are here. Thank you so much for your contribution to Girton
Undergraduate Bursary Appeal 2020
Help give a lifeline to a student in need of financial support
Find out more