We in Maintenance are at our best when neither seen nor heard. We like to keep the College running at peak efficiency with the minimum of disruption to the rest of its members.
Thankfully we usually achieve this aim. In the last 12 months we have received 2555 repair requests. Our biggest hurdles when trying to repair things are hunting down parts or waiting for them to arrive or more commonly, looking for a window of opportunity when we will not disturb anybody.
Sometimes we are called when there is no problem, just a misunderstanding of how our systems work. Please, never be afraid to call us – we would much rather attend a repair when we aren't needed than not be called when we could have helped. Not everyone is an expert in building Maintenance that is quite literally why we are here. If you are ever unsure, ask us.
There are eleven of us in our team: Manager, Deputy/Electrician, Team Admin, Plumber, two Carpenters, Painter, Compliance Technician, two Maintenance Assistants and Apprentice Painter.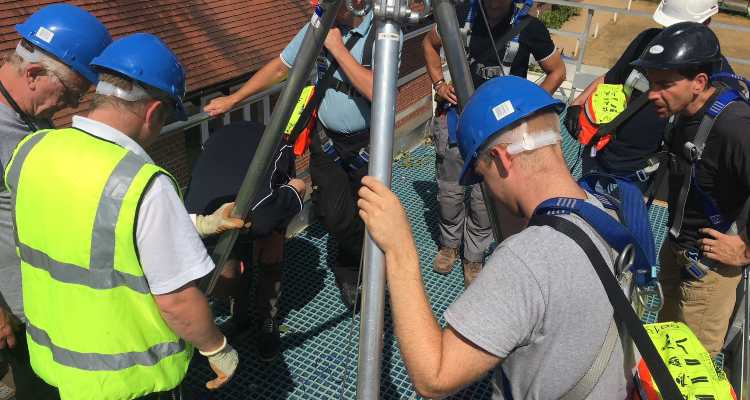 We usually stick to our specialisms, with our Manager fielding awkward questions and chasing contractors. He has implemented many changes of policy and new developments within the Maintenance Department.
The Deputy Manager and Electrician has to juggle his dual role between looking out for the day to running of the team and ensuring the ageing electrics don't fail us.
The Maintenance Team Admin takes care of all the paperwork and emails that the rest of the team are truthfully unable to carry out. She also books in work with our many contractors and speaks to College Members to warn them that we might be descending upon them.
Our team Plumber carries the lion's share of our repair requests due to regular issues with the plumbing, needing many small repairs to supply the site with showers, heating and loos.
Our two Carpenters Work tirelessly to preserve our woodwork; We have a Master Joiner – expert in repairing items of furniture in many types of wood or equally able to construct anything from fitted kitchens to windowsills. Our other Team Carpenter excels at glazing; a vital skill when we are responsible for around 1500 windows, as well as working on doors, locks and general building works.
Our Painter has many years of experience, which shows in the excellent decorative condition of our buildings. He is methodical and dedicated in what for many could be an unending and daunting task. He has recently gained the assistance of our first female maintenance operative, who comes to us with her painting qualifications, looking to learn and improve seizing the excellent opportunity that working here provides.
Our most recently created post is the role of Compliance Technician, keeping track of the essential tasks such as emergency light checks, water testing and updating signage, as well as updating the numerous registers keeping tabs on our contractors and His work is vital to a safe and efficient College.
Finally, our Maintenance Assistants are vital parts of the team. They are flexible and need to help all other trades as well as carrying out their own particular obligations: taking care of the swimming pool, minor repairs and small plumbing or electrical works.
We are also lucky enough to work closely with the College Surveyor who has an overview of the whole site and regularly calls on our physical help or our technical expertise.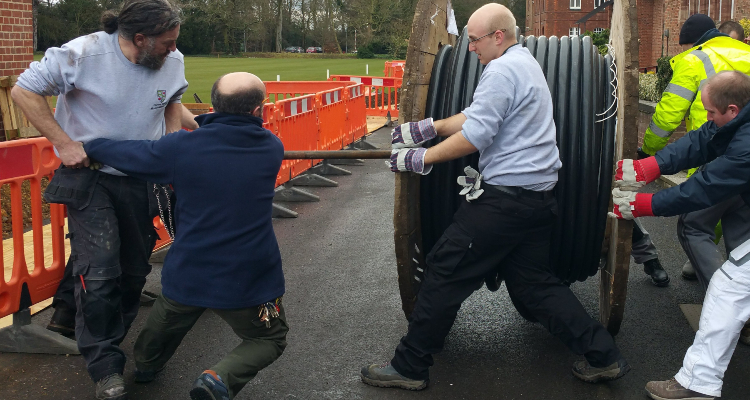 We are at our best however when we are working as a team. We find it most important to help one another if we need to and have the most fun when we do so. We have been known to occupy a whole corridor when changing light fittings or work as a group of nine when moving three tons of cable when the College supply was being replaced. We always try to get involved in larger projects as a way of team building and helping to improve the College for future generations. Our team has done several big jobs to help prepare the way for The Social Hub and Porters Lodge overhaul. It is a nice feeling to be useful as well as streamlining projects for The College.
Once of our biggest advantages in Maintenance is that we get to meet just about everybody in the College. From the Mistress with a bird strike through her window to a student stranded outside of her room with her Formal Hall dress locked on the other side, or a student trying to study without any working lights to The Ball Committee needing pairs of hands to shift provisions. We are very lucky to get involved with so many facets and enjoy the chance to play a small part in just about every aspect of our wonderful community.