Using the College Library
Renewing Items
Students may borrow up to 10 standard loan items from the Main Library for 14 days during Full Term. Each item can be renewed three times. You can do this online, at the issue desk or by emailing library@girton.cam.ac.uk. Please note, items borrowed during vacation periods cannot be renewed.
PIN:
To renew items online you will need a Library PIN. If you do not know your PIN please ask a member of library staff or email us at library@girton.cam.ac.uk.
Renewing items:
Log into your account using your barcode (5 digit code beginning with 'V' on the back of your university card) and PIN.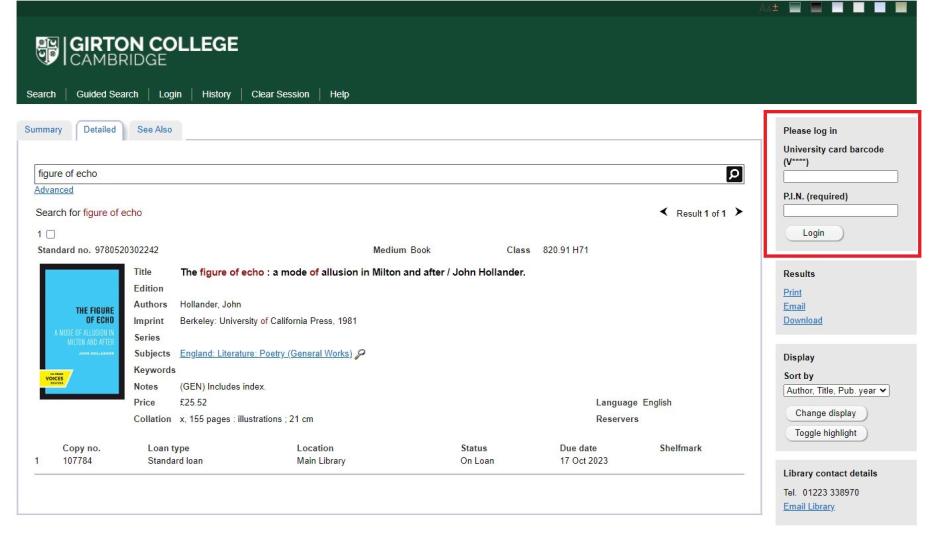 Once you've logged in, click on the 'Account' tab on the main toolbar, which should be the the third tab from the left.
You will see a list of the items you currently have on loan. Select an item you wish to renew by clicking in the corresponding tickbox on the far right-hand side (as highlighted below) and then click the 'Renew' button, on the top left-hand side. You can only select one item at a time.

Once you have completed the renewal, you will be able to see the new due date and how many times each item has been renewed.
Why can't I renew the items on my account?
There are a number of reasons you may not be able to renew the items on your account:
You might have already renewed your item/s 3 times (this is the maximum amount you are allowed)
Your item/s might be overdue
You item/s might have been reserved by another student
Help within college
Library staff are always happy to provide support and assistance. You can book an appointment with us or ask us a question via library@girton.cam.ac.uk.
Library Guides
We have wide range of guides for College members to use
Find out more