Ms Sofia Singler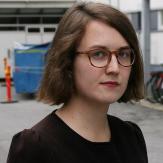 College position(s)
Director of Studies
Degrees, Awards and Prizes
MA (Cantab), MArch (Yale). Gates Cambridge Scholarship (2016), Edward P. Bass Scholarship (2014).
Research themes
Sofia Singler (MA Cantab, MArch) is an architect and Gates Cambridge Scholar from Jyväskylä, Finland, currently based at the University of Cambridge. Her research interests lie in the history and theory of modern architecture, with particular focus on ecclesiastical architecture, Nordic modernism and Alvar Aalto. Singler's work on Aalto's unrealised funerary chapels and cemeteries was exhibited at the Alvar Aalto Museum in 2015. Her current research on Aalto's Church of the Three Crosses in Vuoksenniska, Finland (1955–58) aims to enrich scholarly understanding of the relationship between religion and modern architecture, and revise misleadingly uncomplicated assumptions concerning their mutual exclusivity.
Responsibilities
Architecture Tripos: Parts IA, IB and II History and Theory (Papers 1 and 2); Part II dissertations
Other
After undergraduate studies at Cambridge, Singler was awarded the Edward P. Bass Scholarship in Architecture for a professionally accredited postgraduate degree at Yale University, and the Bill and Melinda Gates Cambridge Scholarship for a PhD in Architecture back at Cambridge. In addition to research and design praxis, Singler teaches architectural history and theory to undergraduates in the Architecture Tripos. She began her own architecture studies at the Jyväskylä School for Visual Arts and Architecture.
Alongside architectural research, Singler maintains an active voice in literary scholarship in Finland. She specialises in architectural metaphors in modernist free-verse poetry. She has authored book chapters on the poetry of Eeva-Liisa Manner (Acta Semiotica Fennica, 2018) and Lassi Nummi (Athanor, 2016; Hai, 2012), as well as a research project on Saila Susiluoto and Mirkka Rekola (Academy of Finland, 2010).
Extra Links
College facilities
Superb facilities in which to live and learn
Find out more